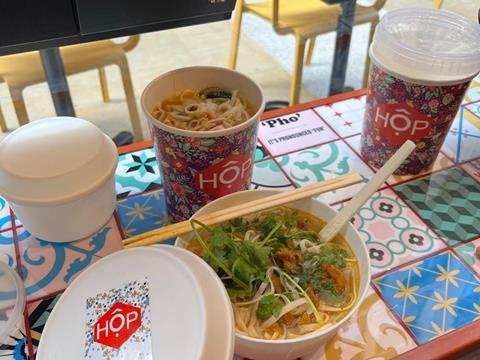 CLUBZERØ is unveiling a new bowl and pot to cater to a wider variety of dishes in its returnable packaging system and adhere to government legislation cutting down on single-use plastics.
Coinciding with the start of the UK's single-use plastic ban in October 2023, CLUBZERØ is expanding its packaging range for use by its Hosts and consumers. This will feature an 800ml bowl for dishes like poke and noodles, and a 400ml pot for sides, soups, and breakfasts. New drop points will also be opened to enable the packaging to be returned for reuse.
The company's packaging is designed in-house by packaging design, product, and engineering experts. Alongside its own investment in R&D in the hopes of optimizing the reuse experience, CLUBZERØ has also made use of UKRI's Smart Sustainable Plastic Packaging grant to develop its new packaging range.
It is reported that the new designs were tested and developed in collaboration with CLUBZERØ Hosts, who have apparently responded with 'great feedback' that they are compatible with the intended menu items and suit the needs of takeaway and delivery services.
CLUBZERØ previously conducted a ten-month pilot with Just Eat and has since scaled the partnership to provide a returnable packaging system for corporate offices. This will allow business customers to opt into reusable packaging when ordering via Just Eat for Business, which will then be collected, washed, and redistributed in a process expected to cut CO2 use by up to 50%.
Barclays also made use of CLUBZERØ's reusables to serve free juice on the Wimbledon Grounds in the summer – another solution anticipated to halve CO2 emissions and achieve zero waste.
Another reusable packaging initiative conducted by Uber Eats features doorstep collection in a bid to maximize convenience for its consumers while combating the overconsumption of single-use takeaway packaging.
If you liked this article, you might also enjoy:
The L'Oréal approach to packaging sustainability
What steps is Apple taking to make its packaging more sustainable?
How did Brazil achieve its 100% aluminium can recycling rate – and can it be replicated in the EU?
Experts have their say on the EU's Packaging and Packaging Waste Directive revisions