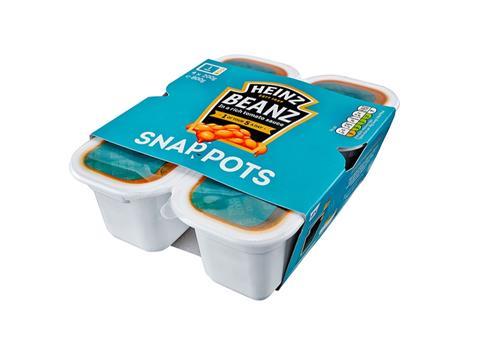 The Heinz Snap Pot developed by Berry Global, which reportedly contains 39% ISCC PLUS-certified recycled plastic on a mass balance basis, has received a Gold award at the Environmental Packaging Awards.
The Snap Pot was first launched in 2008 but has since been redeveloped to implement higher amounts of post-consumer recycled content for food packaging in light of consumer and retailer demand for more sustainable packaging. Tesco, Plastic Energy, and SABIC also contributed to the development of the Snap Pot.
Soft plastic collected by Tesco from its consumers is converted into optimal oil feedstock by Plastic Energy, with Sabic combining the result with virgin material to produce an alternative feedstock for recycled, food-contact-approved plastic pellets.
At Berry Global's site in Bremervörde, Germany, the pellets are manufactured into Heinz Beans Snap Pots, which are said to be recyclable via kerbside collection. Trials led by Sabic, Berry Global, and Kraft Heinz have apparently identified the correct polymer compositions to create the desired technical requirements.
Judges on the Environmental Packaging Awards' panel asserted that the project has contributed towards a circular economy by diverting, recovering, and upcycling plastics that would otherwise have ended up in landfill or incineration.
Héloïse Carlier, international R&D packaging technology expert at The Kraft Heinz Company, said: "This latest award – which follows a UK Packaging Award and a Silver Award at the global Packaging Innovation Awards – recognises how the companies involved have improved sustainability for Heinz Snap Pots while retaining the qualities that continue to make them a hit with consumers: handy snappable format, microwave-ready, and freshness retention."
"We're delighted that Heinz Snap Pots continue to inspire our peers in the packaging industry, just as they've captured the imaginations of millions of consumers," added Matthias Michaelis, key account director at Berry Global. "This latest award win reinforces the importance of working together across the supply chain to focus on improving sustainability while maintaining the excellent properties of the original pack concept."
The Kraft Heinz Company has announced its intent to minimise components, increase recycled content, and utilise alternative materials in its packaging to reduce the consumption of virgin plastic in its global packaging portfolio by 20% by 2030.
Its Balaton closure, which seeks to replace non-recyclable silicone valves in its Tomato Ketchup bottles, is a finalist under the Recyclable Packaging category in the Sustainability Awards 2023.
If you liked this article, you might also enjoy:
The Lidl approach to packaging sustainability
How did Brazil achieve its 100% aluminium can recycling rate – and can it be replicated in the EU?
Experts have their say on the EU's Packaging and Packaging Waste Directive revisions
A deep dive into the most important packaging sustainability trends and solution