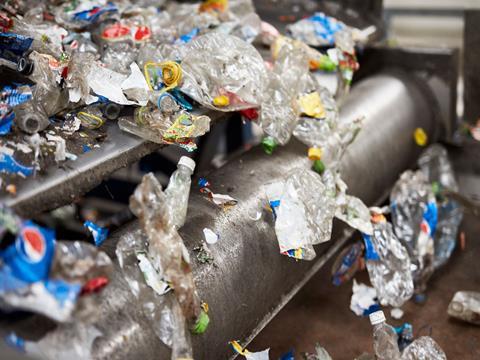 A collaboration announced today between the ALPLA Group, Echohelp and United Polymer Trading (UPT) AG will involve the construction of a recycling plant in Targu Mures, Romania, in a bid to support a local circular economy for PET.
According to the group, each partner will invest equally in an extrusion line at Echohelp's site in Romania. The group says the aim of this new installation is to produce 15,000 tonnes of food-grade post-consumer recycled PET each year.
It adds that the plastic granulates recycled at the new site will come from PET bottles collected from household waste. The rPET granulates from this process will then be used to manufacture new preforms and bottles, the group says, apparently helping to strengthen the local materials cycle within the Central and South-Eastern Europe region.
Günther Lehner, the ALPLA Chairman, says: "Our aim at ALPLA now and in the future is to establish a bottle-to-bottle cycle – including in regions in which the collection and recycling of waste still has potential for development.
"By participating in this joint venture, we are taking a strategically important and sustainable step in this direction."
Each partner will contribute different areas of expertise to the joint venture.
ALPLA will act as a recycling specialist and a preform and bottle manufacturer, while Echohelp will supply base materials in the form of PET flakes. It adds that Echohelp will oversee the extrusion process to produce the high-grade rPET granules.
UPT, meanwhile, says it will contribute its specialism in trading plastics and recycling material. The company already co-owns a rPET upcycling facility, Cumapol, in Emmen, the Netherlands.
The entire amount being invested in the plant, its associated buildings, and infrastructure will be around €7.5 million. The plant expansion will apparently create 15 new jobs at the site in Targu Mures.
According to Georg Lässer, head of corporate recycling at ALPLA: "We are seeing consistent growing demand from our customers for recycled material, and this demand is worldwide and unbroken.
"It and our customers' need to close local material cycles give us an opportunity to boost investment projects like these.
"With our two partners, we have brought together our different areas of expertise and are looking forward to a new form of collaboration."
This is not the first investment by the ALPLA Group in initiatives to improve the circularity outcomes of PET. Earlier this year, it invested more than €5 million in its site in Anagni, Italy, for an extrusion system for food-grade rPET made of used PET bottles.
The new partnership is still subject to regularity approval by competition authorities. The group says it signed the contract for the development on the 9th of September 2021, with production planned to commence in mid-2022.