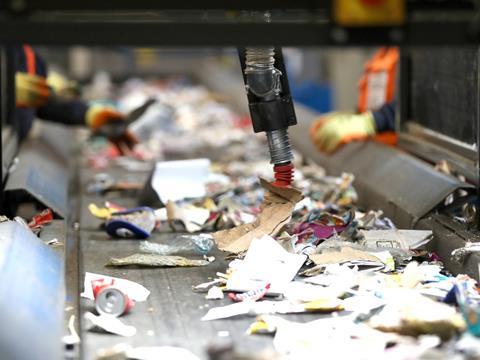 Recycleye and FANUC UK have combined their respective proprietary AI vision technology and LR Mate robots to create an automated detection and sorting process for dry mixed recyclables, apparently achieving a 12% sorting accuracy and a 10% improvement in line output.
The Recycleye Robotics system makes use of AI-powered computer vision to identify individual items in complex waste streams, while FANUC's 6-axis LR Mate robot – positioned at the heart of the system – automatically separates them into plastics, aluminium, paper, and cardboard, amongst other material classes. This is said to pick up to 33,000 items per robot over a ten-hour shift and offer 24/7 operation capabilities.
In turn, the system is anticipated to result in high purity recyclate that will financially benefit materials recycling facilities. Recycleye Robotics is reportedly applied during the quality assurance stage of the recycling process to identify any recyclables that have been missed and remove misplaced contaminants, with a transparent traceability function set to simplify operations by scanning each item, visualising the data on a dashboard, and demonstrating pick levels.
The LR Mate is a compact, short-arm robot designed to fit into smaller spaces, which the partners hope will ensure its 'retrofitability' and enable the company to install a system over one weekend without the need for downtime or suspending operations.
In light of a report from the CIWM suggesting that 60% of survey respondents have struggled to recruit staff in the past year, which is feared to result in 89,000 vacancies across the waste and recycling sector by 2028, the companies anticipate that their new technology will replace the traditional manual process and address ongoing labour shortages in the industry.
"FANUC has been a key enabler in the success we've achieved so far, and they're central to our future ambitions," says Victor Dewulf, CEO of Recycleye. "They really put their faith in us and the product we set out to deliver."
Chief technical officer Peter Hedley continues: "The FANUC LR Mate 200 iD/4SC is the perfect accompaniment to our vision system. We were looking to bring new technology into a very established, traditional industry.
"Although mostly reliant on manual pickers, any robots already being used to sort dry, mixed recyclables tended to be large, heavy Delta robots. The ability to retrofit our lightweight system into customers' existing lines at a reasonable price point was therefore crucial.
"In addition, the FANUC LR-Mate is ultra-efficient, using five times less energy than a Delta robot. And thanks to its sophisticated sensors, there's no wasted travel – if it's not gripping anything, it won't move to the bin.
"Reliability was another a key factor for us. It can operate 24/7 for eight years and still come back to the same millimetre point it has been told to move to."
"The LR Mate robot can pick as accurately as a human worker, and the vision system is as accurate as a human eye," Hedley adds. "Robots don't need to take a break, don't slow down or get tired, and don't leave the job or need replacing.
"This is crucial as it can be very hard to find manual workers for waste picking. Recycleye Robotics is more consistently accurate than a human worker and can work safely alongside human employees, thanks to its safety guarding.
"It can also easily handle the hazardous materials that are routinely found in sorting facilities, which can injure human pickers. It's therefore an ideal complement to the existing workforce.
"Quite simply, for our customers in the MRF sector, investing in a Recycleye Robotics system ensures the future of their business by giving them a competitive edge."
"We wanted to be at Recycleye's side from day one," concludes Oliver Selby, head of Sales at FANUC UK. "We had very early engagement with them and put in place a plan that allowed them to de-risk their offering to the market.
"We conducted simulations and physical trials to make sure that when the product was finally released, it was going to work exactly as planned. The result is a solution that allows a higher throughput than anything else on the market today and offers a superb, automated alternative to traditional sorting methods using a compact robot, which is easy to deploy, easy to install and with low lifetime costs."
This development follows the announcement of an additional $17 million in Series A funding from DCVC to enhance Recycleye's AI-driven waste-picking robotics solution.
Meanwhile, Greyparrot's AI-powered waste recognition system – which collects and provides data to waste managers, producers, and regulators in an effort to advance sorting, recycling rates, and accountability across the waste value chain – has been named as the latest winner of Amcor's Lift-Off programme and a subsequent $500,000 investment.
If you liked this article, you might also enjoy:
The Lidl approach to packaging sustainability
How did Brazil achieve its 100% aluminium can recycling rate – and can it be replicated in the EU?
Experts have their say on the EU's Packaging and Packaging Waste Directive revisions
A deep dive into the most important packaging sustainability trends and solution