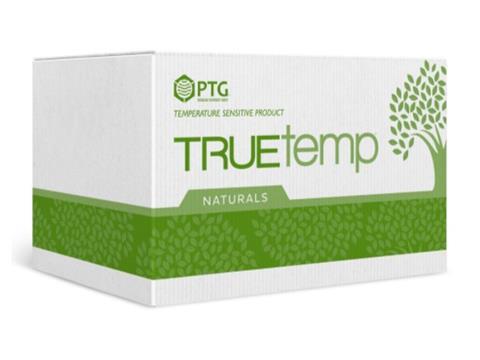 Packaging Technology Group, Inc. (PTG), a provider of thermal packaging solutions and services for the biopharmaceutical and life sciences sector, has announced the "cold chain industry's first" extended-duration, curbside recyclable thermal shipper that maintains 2-8oC for 72 hours.
The new thermal shipper will join PTG's existing TRUEtemp Naturals Line.
According to PTG, the new 72-Hour TRUEtemp Naturals liner has been qualified for summer and winter use, meaning it is effective throughout the year. PTG claims the new design is a cost-effective alternative to VIP and PUR shippers, which are apparently subject to supply chain challenges and not made with sustainable materials.
The company adds that the shipper line is curbside recyclable and repulpable, reportedly offering an 80% decrease in overall environmental impact compared to standard EPS shippers. PTG claims that a recent study has shown its sustainable shippers decrease water potential by 85%, water use by 90%, fossil fuel use by 78%, and water resource use by 83%, again in comparison to standard EPS shippers.
Kelly Cinelli, director of marketing at Packaging Technology Group, comments: "We launched our first curbside recyclable shipper three years ago, and we are thrilled to be known as the leading sustainability solution provider for the pharmaceutical industry.
"The only available sustainable shippers on the market currently are 48 hours; this 72-hour shipper is a credit to our engineering team."
Last year, Ranpak unveiled WrapPak, a cold chain solution that is also recyclable and provides thermal protection for up to 48 hours for e-commerce food delivery. Also introduced in 2021, Phononic's Intelligent Actively-Cooled Tote eliminates the need for cooling rooms, freezer warehouses, or temperature-controlled vehicles, allegedly saving on energy costs.