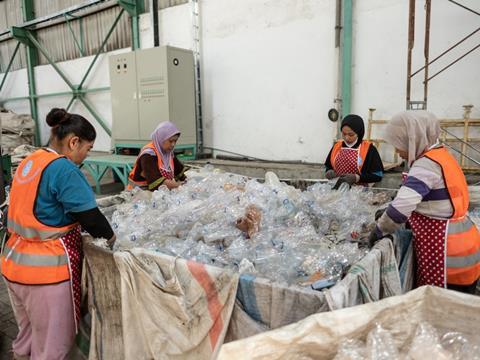 Prevented Ocean Plastic has stated its intention to open 25 high-volume collection centres across various global regions by 2025, with which it will gather and recycle 'ocean-bound' plastic waste into its 'fully traceable' plastic material.
The collection centres are set to be built on coastlines that, according to Prevented Ocean Plastic, have historically lacked the appropriate recycling infrastructure to deal with plastic waste; this includes locations in Southeast Asia, South America, Sub-Saharan Africa, and the Mediterranean.
Twenty of these centres will be high-capacity collection centres expected to process 100 tonnes of discarded plastic waste every month. Five will be larger 'aggregation centres' aiming to process 500 tonnes per month. In total, their processes hope to collect 54,000 tonnes of plastic waste every year.
Furthermore, each centre anticipates the creation of 40 jobs, which would lead to a total of 1,000 new, direct jobs and open up more income opportunities for more bottle collectors in the informal waste sector.
Reportedly, each centre will work alongside a recycler adhering to the Prevented Ocean Plastic Standards. These were apparently developed in consultation with over 70 leading businesses according to the Ethical Trading Initiative (ETI) base code – adhering to ISEAL's Code of Good Practice and Prevented Ocean Plastic supplier Bantam Materials' Good Manufacturing Practices, alongside its traceability process.
The first centre opened in Semarang, Indonesia, last Sunday. Prevented Ocean Plastic Southeast Asia partnered with the United States Agency for International Development (USAID) to address the problem of plastic waste in the city and develop its recycling infrastructure.
While over half of these collection centres are set to be new builds supported by a range of industrial partners, the remaining centres will work with local, trusted organisations to enhance existing sites.
As Eunomia predicts that 29 million metric tons will enter the oceans every year by 2040, the centres aim to protect the natural environment, contribute towards a circular economy for plastics, and provide reliable income and dignified working conditions for waste collectors.
"At a time when there's a lot of negative talk about the future of the planet, it's good to be doing something that has an immediate, positive impact on people and their local communities," stated Raffi Schieir, director of Prevented Ocean Plastic. "By choosing recycled and looking for the Prevented Ocean Plastic logo, we can all support responsible sourcing through these tangible, brick-and-mortar builds.
"Using our repeatable Prevented Ocean Plastic model, there is no limit to what we can achieve. In the future we would love 25 to become 50, and 50 to become 100 centres, addressing ocean plastic pollution at scale as we continue to grow."
"USAID is proud to partner with Prevented Ocean Plastic Southeast Asia to build an inclusive circular economy across Indonesia," added Clare Romanik, lead Ocean Plastics and Urban advisor at USAID. "This partnership demonstrates the power of blended finance as a model to scale solutions to the plastic crisis."
Other Prevented Ocean Plastic projects include a research project, undertaken in collaboration with the University of Georgia, seeking to understand the causes of inland litter entering the oceans and assist local authorities and stakeholders in preventing such pollution; and the incorporation of recovered waste into Lidl's sparkling water bottles.
Meanwhile, RECOUP has warned in its River and Ocean Plastics Collection and Recycling Programmes report that 'inconsistency and ambiguity' in the language and operations of waste removal efforts could impact packaging manufacturers' access to recycled materials and facilitate the pollution of marine environments.
If you liked this article, you might also enjoy:
McDonald's Director of Sustainability in Europe on the company's approach to packaging sustainability
McKinsey on whether or not on-pack sustainability claims affect consumer spending
Perspectives from industry-leading experts on the EU's Packaging and Packaging Waste Directive revisions
A deep dive into the most important packaging sustainability trends and solutions