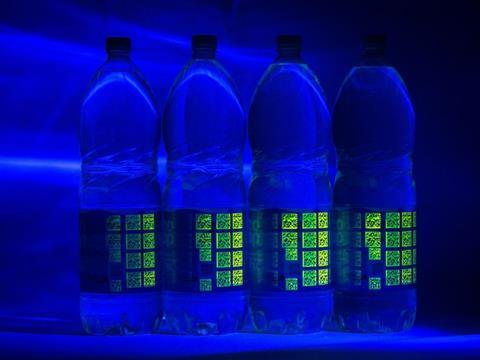 Co-op's own-label, 2-litre PET spring water bottles will now feature unique-every-time QR codes and UV tags from Polytag in a reported industry first; the move is expected to facilitate visibility during the recycling process and make way for the development of a Digital Deposit Return Scheme (DDRS).
Consumers will be able to scan the QR codes to access a landing page elaborating on Co-op's sustainability efforts and charitable commitments. As each code is unique, their serial numbers are expected to be applied to handling fraud-proof rewards, assigning loyalty points, and securing deposit redemptions.
A UV tag will also be printed onto the labels by Tipografic using UV flexographic inks. These are invisible to the human eye, but the barcode level information can be scanned at recycling centres – utilising reading technology developed by Polytag and researchers from the Advanced Manufacturing Research Centre – and uploaded to Polytag's cloud-based analytics dashboard to track the volumes of packaging being recycled in real-time.
The codes will be applied to pack labels by Co-op's bottled water supplier. This process is expected to function at the standard label application speeds, meaning that production efficiency will not be impacted.
It is hoped that both the QR code and UV tag technologies will encourage uptake for a cost-effective DDRS in which consumers can scan their unique QR codes to reclaim their deposits from home via their smartphones. Meanwhile, the use of UV tags is hoped to give manufacturers, retailers, and recycling authorities access to such lifecycle data as where and when packaging was produced and its percentage of recycled material.
Both solutions aim to offer packaging producers with the means to 'describe, tag and trace' their plastic packaging in line with upcoming Extended Producer Responsibility (EPR) obligations, as well as streamlining packaging and recycling operations.
Simultaneously, legislators can apparently measure business liabilities and identify ownership of plastic packaging to enforce legislation, and recycling centres can gather real-time data on both packaging composition and bale breakdown to inform recycling strategy, investment in sorting and recovery equipment, and onward tracking of materials.
"At Co-op we champion initiatives that enable a circular recycling economy for all packaging materials," said Rob Thompson, packaging manager at Co-op. "The duality of the UV tag and QR code on our water bottles will enable Co-op to gain a greater understanding on a product's journey in the recycling chain and provide valuable insight to shape guidance and measurement for future initiatives to encourage more people to recycle."
"The combination of consumer facing QR codes and UV tags is the future of creating and maintaining a circular economy from the millions of pieces of packaging that enter the market every year," continued Alice Rackley, CEO of Polytag. "The onus is now firmly on the industry to take responsibility for the packaging they produce.
"Polytag is a necessary enabler for FMCG brands committed to circularity. It is a data, sustainability and marketing platform in one, already delivering world-firsts in partnership with major brands, such as Co-op who are reaping the rewards of greater visibility of their packaging. We encourage other brands and retailers to get in touch to see for themselves."
Currently, the UV tag-reading technology is fitted to the plastics conveyer at Abergele's Gofer Bulking Centre in Wales. According to a Welsh government spokesperson helping to facilitate this trial, "the Welsh government has long supported Polytag's innovative technology and shares its belief that its digital technologies are the key to unlocking the UK's recycling potential.
"Following the UK's first DDRS pilot in Conwy, Polytag is once again proving that the implementation of a digital solution is not only feasible, but scalable. We are hopeful that its latest partnership with one of the UK's biggest retailers will continue to ensure a DDRS is part of the conversation in the lead up to 2025."
Another project saw Kentucky-based label converter Turner Labels work with Mirror Twin Brewing to utilise blacklight UV ink in craft beer cans.
Zappar's Zapvision, an Accessible QR solution, has also been implemented into Unilever's Persil laundry detergent packaging in the UK with the goal of making it more accessible to the visually impaired.
Towards the end of last year, Co-op made the decision to remove all coloured milk bottle caps from its shelves in an effort to streamline their recyclability.