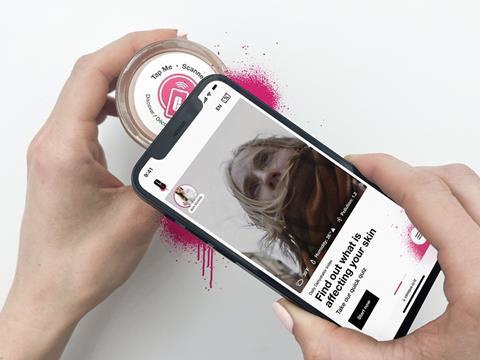 Cosmetics manufacturer Clinique is using near field communication (NFC) technology to connect its products to the Internet of Things in a campaign running across 35 countries.
NFC labels have been added to give jars of Clinique's Moisture Surge 100H their own unique digital identity. Customers can scan the labels to find exclusive content and services from Clinique's Daily Dehydrator Index,. This offers personalised skincare advice to customers who answer a quiz. A campaign filter, with the 'More Than You Think' tagline, enables users to take selfies and share them on social media. In the UK the product is available exclusively through Boots.
Once a consumer completes the quiz, which includes questions on various environmental and lifestyle factors, they receive individualised results, with a guide to Clinique's expert advice on keeping their skin glowing and hydrated. The digital experience also offers access to Clinique's virtual skin analysis tool, Clinical Reality, which plots over 80 data points on a user's face from a single scan to provide bespoke skincare and makeup recommendations.
"Adding NFC technology to beauty and skincare packaging is a major undertaking for a sector built on brand-building traditions that often date back over 50 years," says Clinique executive director of global retail experience Erin Burke. "At Clinique, we're exceptionally proud and excited therefore to be at the forefront of this packaging innovation. It not only provides added customer value but also vital data to pinpoint where the product is being used and how people emotionally engage with our mobile content."
Clinique is working with connected experience specialist SharpEnd on the campaign. Its IoT platform tracks campaign engagement and subsequent usage of the campaign's features. Matching that up with sales data to gain fresh insights into consumer behaviour.
Cameron Worth, SharpEnd founder and chief executive, commented, "This is a defining moment for the industry. When we look back on the meteoric rise of connected products, I believe Clinique's launch will be referenced as the tipping point. An iconic brand positioning its 360 campaign around a connected project experience."
SharpEnd is providing ongoing support to the program with its studio, platform, and technology capabilities. Its proprietary io.tt platform tracks global engagement and usage, pairing it with sales data to create a meaningful picture of consumer behaviour and insights.
This article was created in collaboration with AIPIA (the Active and Intelligent Packaging Industry Association). Packaging Europe and AIPIA are joining forces to bring news and commentary about the active and intelligent packaging landscape to a larger audience. To learn more about this partnership, click here.