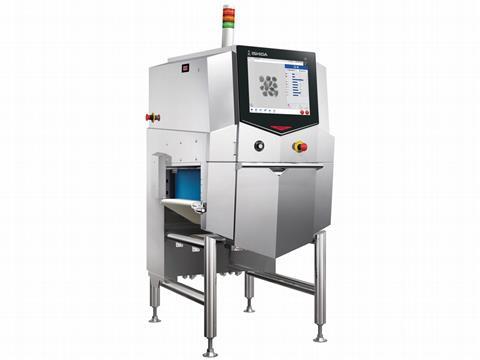 Ishida has unveiled an X-ray inspection system that combines sensor and image processing technology to detect small and low-density foreign bodies inside a pack and support manufacturers in achieving high productivity rates.
The IX-PD, combined with Ishida's existing Genetic Algorithm (GA) and Dual Energy technologies, is designed to produce a clear, high-resolution image when detecting low-density items and foreign bodies, including stainless steel wires and bones in fish fillets. It is claimed that the X-ray process is still effective for products that overlap or stand upright within a pack.
Tests carried out on the new machine reportedly culminated in a 'near 100%' detection rate when detecting bones in chicken, sausages, and diced meat products. In chicken breast fillets, for example, it is claimed that the IX-PD increased the detection rate to 100% in comparison to the 40% rate achieved by existing X-ray technologies.
The company also asserts that the machine's detection capabilities reduce the rate of detection errors and, with it, the need for manual inspections. When operating at full effectiveness, it is hoped to enable companies to remain consistent in their quality control procedures without impacting their throughput rates.
The maximum output of the IX-PD is 300W; its tube voltage is between 25kv and 75kv. Ishida's GA self-learning technology is said to adapt the exact figure to the requirements of the foreign bodies it is detecting, thus optimising the X-ray tube to its full shelf life.
Direct Conversion technology is implemented into the machine's operations, which reportedly negates its reliance on a photodiode. The shortened process apparently increases the machine's energy efficiency. Quality control functions including weight estimation and the identification of damaged or missing items and products are also featured.
Two size options – 360mm and 450mm, respectively – were designed to be compact and easily integrated into existing packaging lines; they reportedly allow flexibility in the process of application detection, whether the product in question is overlapped or unpackaged altogether. The machine's IP66 waterproof construction provides 'full washdown protection' to ensure that the X-ray process remains hygienic.
Ishida now anticipates that the IX-PD will be implemented within high-volume production lines, as well as environments wherein the overlap in densely packed food products cause difficulties in the detection of fine contaminants.
Sibtain Naqvi, Ishida Europe's X-ray product manager, stated: "We understand the importance that businesses today place on quality and the rigorous standards that they employ throughout their operations; however, even the smallest error can have serious consequences for a company's or brand's image, particularly in today's social media world.
"This was the driving force behind the development of our new IX-PD, which represents a real step-change in X-ray inspection systems. Its new technology delivers the best ever sensitivity to give manufacturers complete confidence in the effectiveness of their quality control procedures."
Last year, Minebea Intec unveiled the Dymond DSV and Dymond D Monoblock side shooters for its horizontal X-ray inspection portfolio; they are said to identify glass, stones, metal foils, and plastic parts, amongst other foreign objects, before a contaminated product reaches consumers.
More recently, Baumer hhs' CorrBox Solution modular gluing system was said to feature a sensor that detects adhesives without the need for additives. Its 'camera-like' PGD 1000 sensor apparently allows converters to glue packaging without being restrained by the monitoring process or surface.