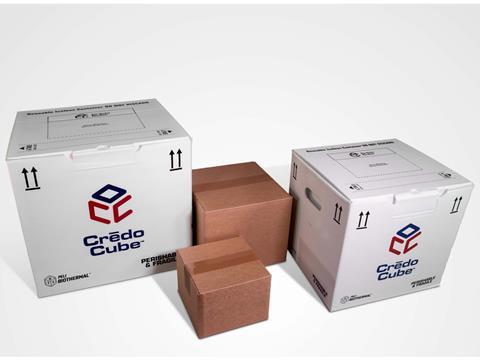 Peli BioThermal has announced the expansion of its Crēdo shipper range for deep frozen payload protection in an effort to meet growing demand for the transportation of vaccines, temperature-sensitive biologics, and time-sensitive cell and gene therapies.
The Crēdo Cube Dry Ice portfolio is expected to ease dry ice shortages currently impacting the pharmaceutical logistics industry, with the applications designed to minimise the amount of dry ice required in a single application without impacting thermal performance.
Five new shippers are reported to deliver deep frozen payload protection for up to and over 144 hours, offering payload volumes from 1.8 litres to 55 litres. Their payload-to-volume ratio is expected to lower operation and transport costs by lowering the amount of dry ice needed per shipper.
They are also thought to maintain temperatures between -80°C to -60°C. Each shipper features specially designed Vacuum Insulation Panels (VIP) technology created for the minimisation of dry ice sublimation and maintenance of correct temperature control throughout each phase of distribution.
Short-term vaccine storage, courier transport of vaccines from freezer farm hubs to immunization locations, and daily vaccine replenishment to remote and rural areas are some of the applications expected for the Crēdo Cube Dry Ice range.
"With dry ice shortages causing issues within the supply chain infrastructure, our Crēdo Cube Dry Ice range can help address this ongoing problem," said Lee Stopher, product manager at Peli BioThermal. "The product's highly efficient VIP insulation reduces and in some cases eliminates the need for in-transit topping up of dry ice, which reduces cost and the potential for temperature excursions.
"Together with the legendary high-performance, reliability and reusability of Crēdo Cube, users can feel confident that their high-value, life-saving pharmaceuticals and biologics will arrive at their destination in perfect condition."
The announcement follows Peli BioThermal's previous unveiling of a reusable, flexible, temperature-controlled Crēdo Go shipping solution – intended to assist pharmaceutical companies in reaching their environmental, social, and governance goals.
Phononic's ACT 2000 cooling and freezing equipment for cold chain applications is aiming to cut down on hydrofluorocarbons and toxic refrigerants entering the atmosphere with its proprietary thermoelectric-based cooling platform.
Sonoco ThermoSafe has also opened a new service station in Brussels as part of its Orion Rental packaging programme, which provides reusable parcel packaging for healthcare, pharmaceutical, and other temperature-sensitive applications.