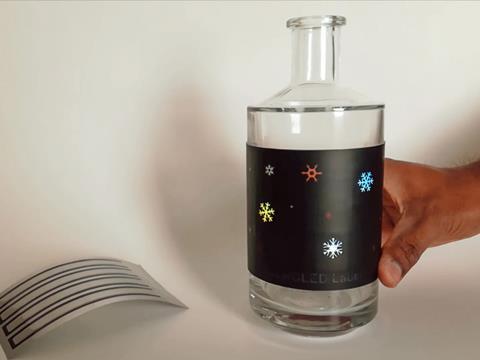 In the dynamic landscape of retail stores, bars, clubs, and seasonal markets, the need for effective product visibility is evident. Illumination technologies are one highly effective means for brand distinction and impactful visual communication says AIPIA member Saralon GmbH a leading developer of functional inks for printed electronics (Saral Inks©) as well as a provider of ready-to-use printed electronic applications.
Following an evaluation of the current market readiness the company has created a new set of Saral Inks, the SaralOLED Label Ink set. With this novel ink set and know-how transfer, the company says it is able to empower the printing and packaging industries to produce self-powered flexible labels with embedded OLED in-house.
Hybrid and printed electronics use various light technologies and easily integrate into different package forms and in-store marketing tools. Within this context, there is a huge demand for ultra-thin flexible labels with preferred OLED lighting technology. Brand managers, package designers and developers face the challenge of seamlessly integrating OLED illumination into the visual language of products, particularly for flexible labels used on bottles.
Designed to facilitate the creation of flexible OLED-embedded labels, SaralOLED Label Ink set aligns with market needs, forging a path towards efficient and interactive visual communication, it claims.
Organic Light Emitting Diode (OLED) is super eco-friendly and recent technological advances made it possible to produce OLED pixels in a very thin and lightweight structure on plastic substrates, making them ideal for flexible labels illumination.
This sets OLED apart from the more common LED-illuminated hybrid electronics. LEDs offer cool colour variations, high efficiency and brightness but leave limited space for flexibility. LEDs are point light sources with relatively bulky structures.
The development of this novel ink set was only possible through a handful of key technology enablers. With a focus on production scalability, design flexibility and technological affordability, it developed SaralBattery Inks for easy customization and screen-printing of batteries on lightweight recyclable substrates as an integrated part of the electronic circuit.
Using them as a part of the Label Ink set means that there is no need to attach external batteries to the label. The power source will be printed as an integrated part of the production process, so labels will keep self-powered functionality for several years, it says
Additionally in the set, the company has included three different adhesive inks with distinctive functionalities: Saral HotMeltGlue 800 has the main function to laminate the cathode and anode sides of the printed battery; Saral SilverGlue Alpha 600 is specifically developed to easily attach SMD components and in this case, the OLED pixel to the label; Saral Silver Glue Beta 700 is a specially designed anisotropic silver-based glue to electrically interconnect two substrates. Including both paper and plastic.
Saralon says it is a complete set of functional inks that work in the most harmonious and efficient way. Therefore, printers do not need to invest extra time and cost to find compatible inks for various circuit parts. The company has also produced a starter kit that includes all necessary inks in the minimum possible quantity and technical details for the printers, convertors and innovative electronics developers to undertake experiments and trials before ultimate decision making.
This article was created in collaboration with AIPIA (the Active and Intelligent Packaging Industry Association). For a full update on active and intelligent packaging, come along to the AIPIA World Congress (co-organized by Packaging Europe) in Amsterdam on 14-15 November. The only smart packaging event covering the entire technology spectrum, the World Congress is a meeting place for the global active and intelligent packaging industry where brand owners, innovators, and other stakeholders can network and see and discuss the latest trends and innovations. Register to attend here.