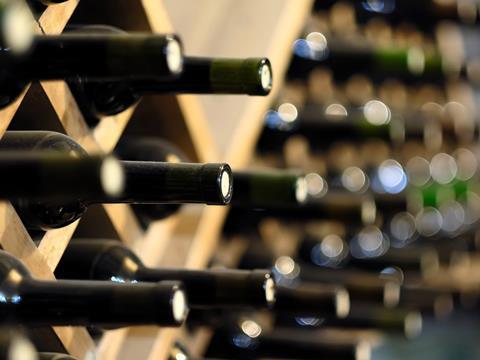 Toppan, an AIPIA member that is a global provider of communication, security, packaging, décor materials, and electronics solutions, first launched a secure sensing NFC tag with an opening detection function in January 2017.
The tag has been adopted for high-end wines and a number of other products. Now the company has added to its NFC tag lineup by developing a tag equipped with a capacitive sensing function that enables contactless detection of the volume of liquid remaining in a container. Global sales were be launched in August this year, targeting, among others, the cosmetics, medical and pharmaceutical, as well as the liquor industries.
The new NFC label, combining an NFC IC/chip, antenna and capacitive structure for liquid fill level detection, has been made possible by Toppan's proprietary tag design technologies. A pair of capacitive electrodes formed inside the label make it possible for users to read the NFC tag attached to a bottle with a smartphone and detect the presence and remaining volume of liquid based on the level of capacitance inside the container. Toppan's uses NXP® Semiconductors' NTAG® 22x DNA StatusDetect, for the new tag, a revolutionary IC chip with capacitance measurement capability.
With this NFC tag, users can easily check the volume of liquid even when the contents cannot be seen. Companies adopting it will also be able to provide consumers with various customer engagement services, such as content linked to the volume of liquid left in bottles and guidance on additional purchases. The new tag label will be on show at Luxe Pack Monaco 2023 (October 2-4), the premier trade show for luxury packaging. The tag will not read through a metal container.
To provide attractive design and protect contents, many luxury goods are packaged in opaque containers. There has therefore been demand from users for methods that enable them to easily check how much liquid is left in the container. For marketing and product development, companies have also been looking for ways to obtain insights on usage and other information after products are purchased. However, currently this is generally conducted via questionnaires and tracking of purchasing data, and there has not been a method for obtaining data closely linked to actual use, it says.
Previously, liquid detection using the mechanism of capacitance has generally been performed using dedicated devices for industrial applications, says the company. By equipping an NFC tag with a liquid detection function, however, Toppan has made detection with an NFC-enabled smartphone possible.
Initially, the secure sensing NFC tag was developed to enable the detection of openings. Since then these have been supporting anticounterfeiting efforts for luxury goods and the provision of product information and other content to consumers. Adding the new liquid-detecting model to the secure sensing NFC series, Toppan believes it will drive further expansion of the NFC tag market.
The company says it will expand global sales of the newly developed NFC tag, along with other secure sensing NFC products and eco-friendly NFC tags. Also, it intends to continue developing applications for the secure sensing NFC series, which combines ID authentication with status detection functions, and will look to bolster the lineup with products matched to a wide range of customer needs.
This article was created in collaboration with AIPIA (the Active and Intelligent Packaging Industry Association). For a full update on active and intelligent packaging, come along to the AIPIA World Congress (co-organized by Packaging Europe) in Amsterdam on 14-15 November. The only smart packaging event covering the entire technology spectrum, the World Congress is a meeting place for the global active and intelligent packaging industry where brand owners, innovators, and other stakeholders can network and see and discuss the latest trends and innovations. Register to attend here.