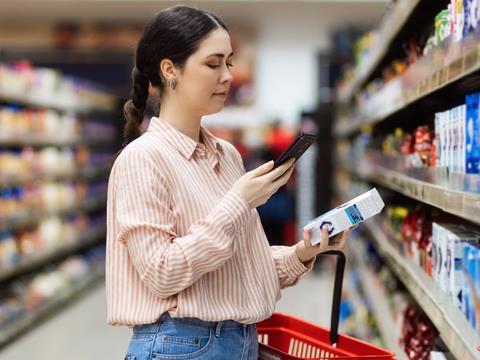 After celebrating the barcode's 50th birthday, GS1 UK has announced the launch of a new pilot programme that aims to harness the power of its 59,000-strong membership to shape the future of retail.
Building on the five decades of collaboration that followed the adoption of the barcode by industry, GS1 UK is seeking ambitious brands to help develop the next generation of on-pack labelling - QR codes powered by GS1.
From consumers and regulators to brand owners and retailers, everyone wants to know more about products they buy, sell or consume, it believes. As space on-pack is finite, there will always be a limit to the amount of information physical labels can carry and, with 94% of consumers now owning a smartphone, there is a growing expectation that comprehensive product information should be instantly accessible through that medium.
In addition, brands large and small are now grappling with a host of new labelling demands, both at home and when trading overseas. In 2020 alone, there were over 600 legislative requirements for ESG reporting, over 300 of which were mandatory. Such requirements continue to increase as governments and consumers expect greater transparency throughout the supply chain.
Combining two of the most important inventions of the 20th century, the internet and the barcode, QR codes powered by GS1 are a solution to this challenge, allowing businesses of all sizes to meet data demands now and in the future. They can offer infinite possibilities through one simple scan. enabling a wide range of enhanced consumer experiences and improved business operations, while still with the potential to go "beep" at the till.
With a transformation of this scale, GS1 UK wants to ensure it is grounded in reality, so is piloting this innovation with its members to test it in the real world. Participating brands will not only benefit from new ways of engaging with their consumers, it says, but will also have the opportunity to inform GS1 UK about the development and implementation of this next generation of barcode. The brands retain full control and can tailor online sources to specific products or users as well as update information without ever having to alter their physical packaging.
One of the first brands to join the pilot was Ntsama, an emerging food brand that produces chilli oils and sauces using top-quality, locally sourced, ingredients. Founder Joyce Gannon has been using QR codes powered by GS1 to share recipe ideas, nutritional information and even an augmented reality video telling the story of her inspiration to start the company, Mama Ntsama. This has helped the brand increase sales and re-order rates, build brand loyalty, boost engagement and answer hundreds of consumer queries – all through one simple scan.
Joyce said: "I know there are many other chilli products on the market today, but Mama Ntsama's chilli oil is prepared uniquely, giving it an unforgettable taste. I can now complement that taste with a unique and innovative digital experience."
Sarah Atkins, CMO and membership director at GS1 UK said: "In 1973, retail industry leaders came together to develop a common solution that would change the course of global commerce forever. 50 years on, we are now embarking on the next chapter of our collaboration with industry, offering UK businesses the chance to be at the forefront of the next barcode revolution.
"Collaboration is key to us solving the challenges of the future and with the support of our members we will explore how the next generation of barcodes can transform the next fifty years of retail. The pilot will help us shape how we help brands prepare for the future drive efficiencies and help consumers lead more sustainable, safer and smarter lives," she explained.
This article was created in collaboration with AIPIA (the Active and Intelligent Packaging Industry Association). For a full update on active and intelligent packaging, come along to the AIPIA World Congress (co-organized by Packaging Europe) in Amsterdam on 14-15 November. The only smart packaging event covering the entire technology spectrum, the World Congress is a meeting place for the global active and intelligent packaging industry where brand owners, innovators, and other stakeholders can network and see and discuss the latest trends and innovations. Register to attend here.