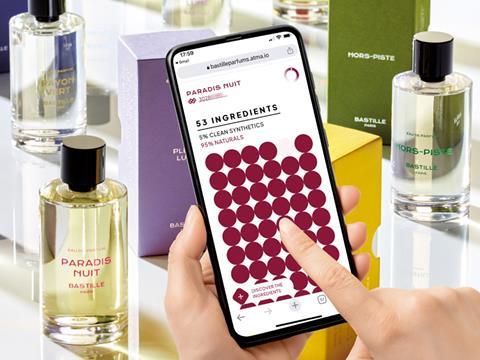 Bastille Parfums, a French fragrance company, has launched its latest transparency initiative which combines the use of radio frequency identification (RFID) sensor technology for greater supply chain visibility and QR code technology to share valuable information directly with consumers.
AIPIA member Avery Dennison's RFID sensor technology will allow Bastille to track and trace tagged products across its entire supply chain, improve inventory management and mitigate counterfeit products, it says. Traceability also enables brands to identify inefficiencies, serve customers better and optimize operations — from raw material sourcing to consumer purchase.
The use of the atma.io connected product cloud platform means that every product is assigned a unique digital identity, or "digital twin", allowing Bastille to track every product at every step of the supply chain from source to consumer, according to the company. Also, it says, tracking purchase orders in real-time will allow them to achieve a higher level of factory outbound accuracy. The brand will gain access to consumer interaction analytics, providing deep insights into customer engagement with different fragrance collections.
Responding to consumers' desire for greater ingredient disclosure, the new transparency initiative will see two Bastille fragrances including bestseller, Pleine Lune, and new release, Paradis Nuit, equipped with a serialized QR code associated with the RFID tag. A single scan of the QR code with a smart device, such as a phone or tablet, will take users to a digital experience to unlock information regarding the origin of ingredients, date of bottling, olfactory values, fragrance composition and sustainability details.
By utilizing the unique digital ID for both the RFID and QR code, the experience provided is unique for every single item, the company claims. In return, Bastille will benefit from interaction and engagement insights that help them to better understand their customers and identify trends. This new communication channel allows the fragrance creator to make a stronger connection with their customers and reinforce their loyalty with an enriched CRM experience.
The collaboration brings together a complete technology solution from Avery Dennison alongside customer experience experts SharpEnd, another AIPIA member, which is a design studio focused globally on helping brands embrace the Internet of Things. The collaboration also includes manufacturing partner, SOCOS SERVICES.
Sophie Maisant, CEO, Bastille, says: "Our commitment to the highest transparency standards is in our DNA. It's also essential to our longstanding trust with customers. Now, with this new initiative, we are letting our customers know we hear their desire for both more information about already available ingredients as well as full disclosure of ingredients including sourcing, provenance and date of manufacturing."
Uwe Hennig, senior director market development EMEA & NEM, Avery Dennison Smartrac: adds, "For beauty and fragrance brands to remain competitive in today's changing retail landscape, they need to create transparency across the supply chain and offer differentiation through unique customer experiences. We are proud to partner with Bastille to create this unique end-to-end solution for the beauty and fragrance sector."
This article was created in collaboration with AIPIA (the Active and Intelligent Packaging Industry Association). For a full update on active and intelligent packaging, come along to the AIPIA World Congress (co-organized by Packaging Europe) in Amsterdam on 14-15 November. The only smart packaging event covering the entire technology spectrum, the World Congress is a meeting place for the global active and intelligent packaging industry where brand owners, innovators, and other stakeholders can network and see and discuss the latest trends and innovations. Register to attend here.