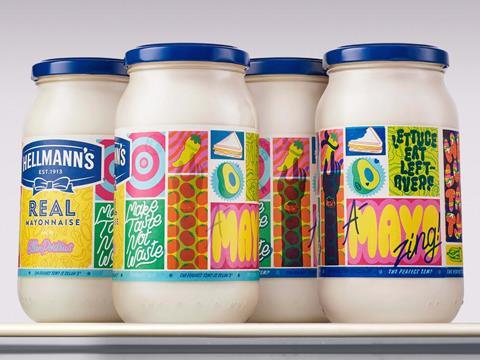 Hellmann's has teamed up with Ogilvy to design a smart mayonnaise jar that tells consumers when their fridge is at the optimal temperature to keep their food fresher for longer and cut down on food waste.
Forming part of Hellmann's Make Taste Not Waste positioning that launched in 2021, the Smart Jar aims to combat the findings of a recent study suggesting that consumers are seeing their food spoil up to three days faster in fridges running at above 5℃. When kept in conditions below that threshold, the jar's thermochromic ink – a type of ink only visible at a certain temperature – is activated to reveal hidden messages and illustrations designed by illustrator Ellen Porteus from the Jacky Winter Group.
Prototypes of the jar have been sent to food waste campaigners, regular consumers of Hellmann's products, and influencers across TikTok and Instagram in an effort to encourage UK citizens to check the temperature of their fridges and reduce food waste on a national scale.
"We know how important it is to make the most of the food you buy," says Rachel Chambers, senior marketing manager at Hellmann's. "At Hellmann's we're constantly looking to help consumers reduce food waste and save money and think Smart Jar is an innovative way to get people talking about - and solving - this massive problem."
"Food waste is a serious issue but these Smart Jars are a fun way of educating people how they can easily combat it," continues Dan Fisher, global ECD for Unilever, Ogilvy. "It's taken us over a year to get the technology right but the end result is more than worth it. I'm impossibly proud of the team for staying the course."
Catherine David, director of Collaboration and Change at WRAP, adds: "Every year more than 4.5 million tonnes of perfectly good food goes to waste in our homes, which could have been eaten. This costs the average family upwards of £700 a year – money none of us can afford to waste.
"Incorrect storage is a key trigger for food going off and getting the fridge temperature right can help food stays fresher for longer. I'm delighted WRAP has worked with Hellmann's on this exciting trial. We need innovations like this pilot jar to help us make simple changes in our lives that will pay dividends. Food Waste Action Week is the perfect time to launch this brilliant trial."
OliTec previously introduced smart labels said to provide a visual representation of the freshness of a temperature-sensitive product based on its storage conditions and life cycle – a solution it believes to be more effective in combating food waste than best before dates.
Cleantech's Digital Temperature Indicator (DTI), an irreversible temperature label with visual and digital indication, was also introduced at the AIPIA World Congress. It is expected to reduce the amount of unnecessary waste produced and ensure that food, pharmaceutical, and life science products are delivered at their highest possible quality.
For a full update on active and intelligent packaging, come along to the AIPIA World Congress (co-organized by Packaging Europe) in Amsterdam on 14-15 November. The only smart packaging event covering the entire technology spectrum, the World Congress is a meeting place for the global active and intelligent packaging industry where brand owners, innovators, and other stakeholders can network and see and discuss the latest trends and innovations. Register to attend here: https://packagingeurope.com/aipia-world-congress/tickets