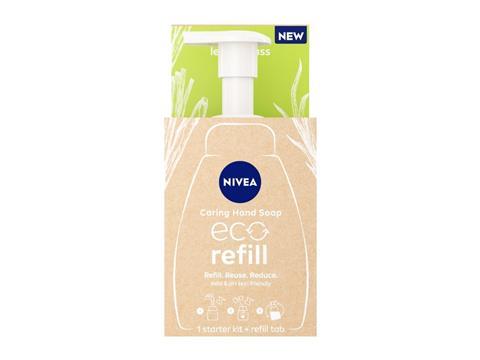 The new NIVEA EcoRefill Hand Soap range includes a 100% recycled and recyclable PET bottle that can be refilled by mixing water and a cleanser tablet to produce hand soap.
According to NIVEA, the EcoRefill bottle is made with 100% recycled and recyclable PET. This excludes the pump, which is not recyclable as it contains multiple components that cannot be separated for recycling.
Additionally, the cleanser tablets are packaged using FSC-certified paper, in line with NIVEA's target to reduce the use of fossil-based materials and promote plant-based alternatives.
For consumers, the EcoRefill process involves filling the bottle with water up to the line indicated on the pack. After adding the refill tablet, the bottle should then be closed with the pump and shaken for thirty seconds.
NIVEA adds that, while the dissolved EcoRefill tab is reportedly strong enough to be used after five minutes of being added to water, the tablet can take up to five hours to dissolve fully. The new refillable hand soap reportedly lasts 25% longer compared to standard NIVEA liquid formulas.
The EcoRefill Hand Soap bottle can then be refilled and reused multiple times with additional cleansing tablets, which consumers are able to buy separately after the initial purchase of the starter kit.
Currently, consumers can purchase NIVEA's EcoRefill starter kit with lemongrass soap, which includes a 250ml bottle and one cleanser tab. Packs of three cleanser tablets are available in Lemongrass, Cotton Flower, and Hibiscus & Honeysuckle.
The EcoRefill Hand Soap range is sold in 50 Tesco stores across the UK and on NIVEA's website. NIVEA is set to expand the rollout of the range in 2022.