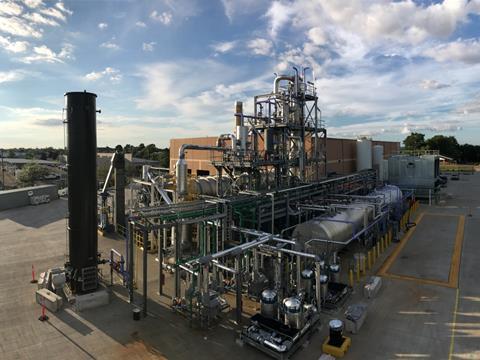 Neste has purchased the European rights to Alterra Energy's thermochemical liquefaction technology, a chemical recycling solution for hard-to-recycle plastics that the companies are looking to scale at Neste's refineries in Finland and the Netherlands.
Alterra Energy is a US-based company that is already running an industrial-scale facility in Akron, Ohio that transforms end-of-life plastics into an intermediate product, which can reportedly be further refined into raw material to produce new plastics and other petrochemical products. In 2020, Nestle acquired a minority stake in Alterra Energy.
According to Neste, it has already processed liquefied waste plastic sourced from Alterra Energy, among others, in a series of trial runs at its refinery in Finland. Neste has now purchased the European rights to Alterra Energy's proprietary thermochemical liquefaction technology, which the companies say offers a recycling solution for hard-to-recycle plastics.
Heikki Färkkilä, vice president of chemical recycling at Neste Renewable Polymers and Chemicals, comments: "Acquiring the rights to Alterra Energy's technology in Europe enables us to offer a holistic solution to our partners.
"Neste will be able to provide the full chemical recycling package: from waste plastic to product, offering high-quality drop-in feeds for the production of new polymers and chemicals."
Frederic Schmuck, CEO of Alterra Energy, adds: "We are pleased that Neste, a global leader in sustainability, has chosen Alterra Energy's advanced recycling technology to further accelerate its efforts towards circularity of plastics throughout Europe.
"Throughout the rest of the world, we will continue to support petrochemical industry players in meeting their sustainability commitments to brand owners and consumers."
While Neste has acquired the European rights to the technology, Alterra Energy says it will continue to operate independently in the rest of the world with the aim of commercializing the chemical recycling technology through licensing.
Meanwhile, Nestle, in partnership with Ravago, is planning to establish a joint venture to deploy the Alterra Energy technology in Vlissingen, the Netherlands. To scale up processing capacities for liquefied waste plastic at its Porvoo refinery in Finland, Neste also claims it is currently conducting a feasibility study to examine the potential for investment in proprietary pre-treatment and upgrading capabilities.
Neste is aiming to process more than one million tonnes of plastic waste per annum from 2030 onwards.