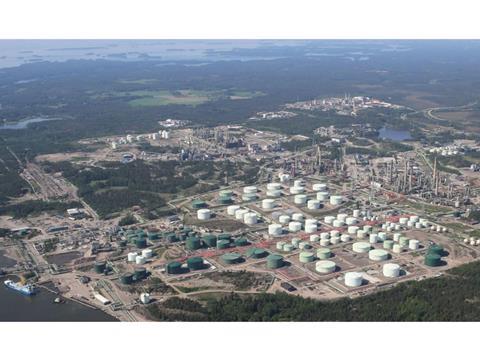 Neste is launching a strategic study into the possibility of transforming its refinery in Porvoo, Finland, into a renewable, circular solutions site dealing in non-crude oils.
In order to expand its circular production and utilisation of renewables, Neste claims that it must co-process and retrofit units; the study will supposedly reach this point after the initial co-processing of both renewable and circular feedstock. If successful, the ultimate transition is expected to reach a long-term capacity potential of two to four million tonnes every year.
It is hoped that such a transformation will bring an end to the refining of crude oil in Porvoo in the mid-2030s.

"Neste's growth strategy is centered on renewable and circular solutions," says Matti Lehmus, president and CEO of Neste. "We continue to set our ambition level high, launching this study on the long-term transformation path for our Porvoo refinery and targeting to ultimately replace crude oil with alternative feedstocks.
"The Porvoo site provides a flexible and large-scale base that can grow into a major site for our renewables and circular business."
Neste expects to make 'significant' and separate investment decisions over the course of the study. It also assures its customers that their access to fossil fuel products will not be affected by the transition.
Expansion was already set to take place within the refinery's chemical recycling sector thanks to the positive grant decision of up to EUR 135 million from the EU Innovation Fund, which Neste received in July.
Meanwhile, Coca-Cola Europacific Partners and the University of California, Berkeley recently collaborated on a project to convert captured CO2 into packaging feedstock – a process that would reduce manufacturers' reliance on crude oils.