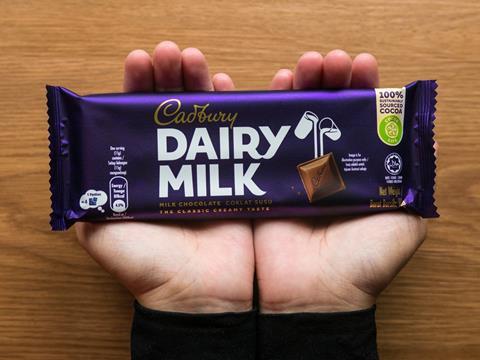 Australia has become the proving ground for many major multinational brand owners to test smart packaging solutions. Now Mondelez International has launched Snacking Right – a new on-pack QR code that the company says can provide Australian consumers with current recycling and packaging disposal information, as well as details on the company's commitment to what it describes as "mindful snacking and sustainable sourcing", according to a report in PKN, Packaging News Australia.
The on-pack QR codes began appearing progressively across the Cadbury chocolate range from July, with the concept expanding to include further brands and products in the future. The company says the platform will offer Cadbury consumers recycling and packaging disposal information, as return-to-store programs and local recycling infrastructure evolve.
Snacking Right also includes information about the brand's world-first Cadbury Dairy Milk wrapped in 30% recycled content and about further efforts to support a circular packaging economy.
"Our goal is to build a more sustainable snacking company in Australia, by providing consumers with clear recycling and disposal information," said Darren O'Brien, Australia president at Mondelez International. "While other disposal programs have come and gone, Snacking Right is Mondelez's own digital solution to engage consumers about our sustainability progress and to show how we can all play a role in reducing our impact on the environment.".
The platform also introduces Cadbury consumers to Mindful Snacking, a snacking approach developed in partnership with behavioural scientists and eating experts. Included are tools and activities to enjoy chocolate in what Mondelez says is a more mindful way and with greater attention and intention.
Mondelez International's commitment to sustainable sourcing is also highlighted on the Snacking Right platform. Cadbury consumers can learn more about the dairy farming families who supply fresh milk to the brand. Featured is farmer Darren Fielding and his family, who farm 320 Friesen cows in Tasmania's North-West. The farm has been supplying Cadbury with fresh milk for three generations.
"My family is beyond proud to be supplying Cadbury with our milk and putting smiles on millions of faces for decades now," said Fielding. "With the QR code now on-pack, Aussies can learn a little bit more about us, our history, and the role we play in creating such iconic products."
The platform also provides information on Cocoa Life, Mondelez International's cocoa sourcing program, which the company says is "working to transform the livelihoods of farmers, and build stronger and empowered cocoa-growing communities."
This article was created in collaboration with AIPIA (the Active and Intelligent Packaging Industry Association). For a full update on active and intelligent packaging, come along to the AIPIA World Congress (co-organized by Packaging Europe) in Amsterdam on 14-15 November. The only smart packaging event covering the entire technology spectrum, the World Congress is a meeting place for the global active and intelligent packaging industry where brand owners, innovators, and other stakeholders can network and see and discuss the latest trends and innovations. Register to attend here.