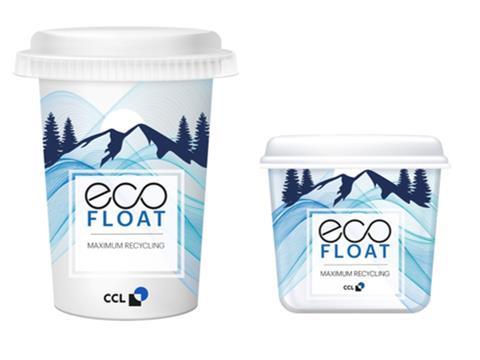 CCL introduces a low-density polyolefin sleeve for PP dairy cups as part of its EcoFloat portfolio, which it says is certified as fully recyclable.
According to the company, the cyclos-HTP institute conducted a test that showed 92 to 100% of the sleeve can be effectively recycled with the PP cup, although this is dependant on factors such as ink coverage. This reportedly means the EcoFloat material has achieved the classification of "highly to fully recyclable".
In addition, the sleeve material is very thin, with a density of less than 1, which the company claims makes it resource-efficient and creates less CO2 emissions during transport.
CCL says that the EcoFloat material can act as an alternative to paper banderoles, which have apparently become increasingly popular for dairy cups. However, banderoles are a multi-material composition and, according to the company, are not always recycled as it is up to the consumer to separate the material from the bottle.
Norbert Fenkart, head of development at CCL Label's Dairy Packaging Hub, comments: "Using a thin plastic sleeve label that is made from the same family as the cup increases the recycling rate.
"First of all, it is detected as the material it is on the sorting lines and can be successfully recycled afterwards.
"Most sleeves tend to be removed due to natural friction and de-sleeving during the recycling process but if it stays on it can also be efficiently recycled."
CCL concludes that the polyolefin sleeve solution shows a good level of shrinkage, which means that a range of cup shapes can be covered. Allegedly, it is also suitable for high-quality printing and offers 360-degree graphics coverage for boosting shelf presence.
Earlier this year, CCL unveiled CANtastic, a type of aluminium can packaging with a specially engineered sleeve that ensures the recyclability of the can while also offering maximum hygiene and marketing features. The company also announced plans to open a recycling facility at its Voelkermarkt site in Austria with its pioneering new technology that allows post-consumer de-inking of printed sleeves.