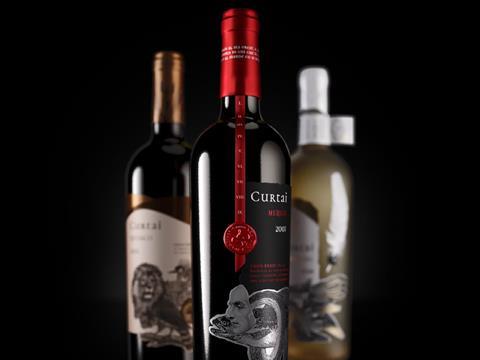 Gentlebrand will mark the 700th anniversary of Dante Alighieri's death with a special edition wine range, called Curtai, which features illustrations on the packaging to take consumers on "a journey to discover The Divine Comedy".
Curtai will include three different wines to symbolise the three realms visited in Dante's infamous work – Hell, Purgatory, and Paradise – and acknowledge the number's frequent presence in the author's verses. The wines themselves are intended as a journey through the traditional tastes of wines local to the Friuli region in north-eastern Italy; the name Curtis is reportedly linked to the Friulian dialect.
The first wine of the collection is a red Merlot, corresponding with Hell in The Divine Comedy. It features a label depicting a fish with a human face, which is trapped within the coils of a snake, and a decorative ribbon descending from the red capsule to symbolise the circles of Dante's imagined Hell and the fall of Lucifer. Gentlebrand says that the colours and textures of the first bottle are meant to "convey fear and darkness".
According to Gentlebrand, the label's illustration is a "modern interpretation", more reflective of present society, of the thieves and fraudsters consigned to the eighth circle in Dante's text. While the fish on the wine label is apparently linked with innocence, it is overwhelmed by the snakes that infiltrate "its unconscious hidden by the mask of its ego".
Paying homage to Purgatory, the second bottle contains a Malvasia wine. The design of this label is aimed at conveying "materiality" and "a feeling of incompleteness and uncertainty", alongside the potential passage of the so-called imperfect souls waiting in Purgatory.
The brown colouring on the label and of the wine itself was chosen for this purpose, Gentlebrand explains. Also featuring the "hybrid figures" of animals, including a lion and a bird, the colours, paper, and illustrations were chosen to represent the pain, ambiguity, and introspection that supposedly characterises Dante's Purgatory.
The third and final wine is Paradise, represented, according to Gentlebrand, with a delicate bottle featuring white and gold details. These colours are intended to symbolise balance and ethereality, alongside the illustration of a feather – allegedly "a symbol of purity of the soul" and "the omnipotence of the divine".
However, Gentlebrand emphasises that the overall purpose of the wine triad is the consumer's individual journey, with each label offering multiple interpretations of Dante's The Divine Comedy.
Gentlebrand worked with Anna Di Giusto, a scholar of The Divine Comedy, to translate the original text and Otto D'Ambra, who created the label illustrations based on the selected extracts.
Gentlebrand concludes that the special edition range is "a project that celebrates Dante, and Gentlebrand's passion for Packaging Design".