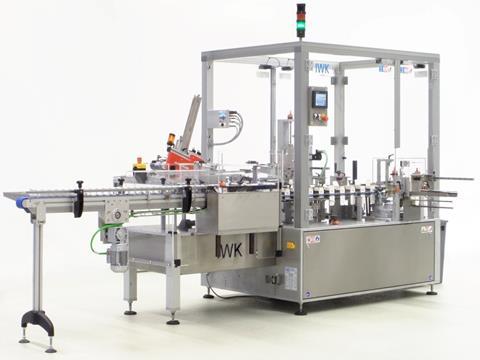 IWK Packaging Systems, Inc., has unveiled the VI 5 and VC 5 Vertical Cartoners, which it says offer versatile, cost-effective, and premium carton and tube filling for the pharmaceuticals and health and beauty sectors.
According to the company, the VI 5 Vertical Cartoner is an intermittent motion machine with an open, accessible work area and a modularly extendable length that optimises floorspace, which is suitable for a range of containers including bottles, tubes, blister packs, jars, pouches, and bags. The cartoner can reportedly produce up to 75 cartons per minute, with a format range of 25-1000mm long, 20-90mm wide, and 50-230mm in height.
IWK says that the VI 5, which is touchscreen-operated, has the ability to change formats quickly. The company adds that it also features easy, repeatable changeover steps, a centralised transport height adjustment system, and carton buckets that can be exchanged through a click system.
In addition, the VI 5 apparently offers a servo-driven, cam-guided transport system for premium precision positioning. The basic machine comprises 22 carton carriers and a corresponding number of stations, while optional transport system extensions can bring the total number of stations to up to 54. A leaflet feeder and automatic product loading are also available as additional options.
Meanwhile, IWK's VC 5 Vertical Cartoner is a continuous motion module that IWK claims can produce up to 120 cartons per minute, offering semi-automatic packing of a broad range of containers, including bottles, tubes, blister packs, jars, pouches, and bags. IWK says that the VC 5 can handle the same format range as the VI 5 model, and is likewise touchscreen operated, easy to clean, and offers quick changeover and precision positioning.
The VC 5 also features an open, ergonomic work area and an extendable length to optimise footprint, according to the company. IWK adds that the basic VC 5 contains 40 carton carriers and a corresponding number of stations, with extensions available that can bring the number up to 68 and optional additions including a rejected carton compartment.
Bernie Conlon, managing director of IWK Packaging Systems, Inc., comments: "Each of these new cartoners offers extraordinarily high levels of functionality at a surprisingly cost-effective price point.
"Our goal was to make many of the best aspects of IWK cartoners – including handling versatility, precision positioning and modularity for evolving needs – available to a broader set of customers in the pharma and personal care products spaces."