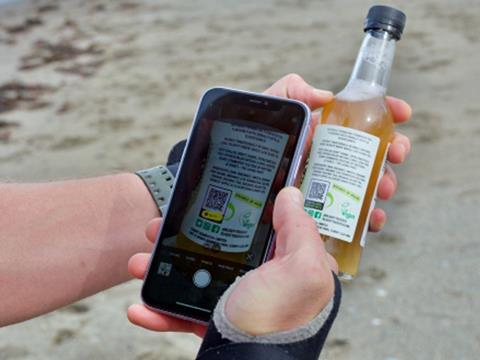 Polytag, a UK-based member of AIPIA which creates unique QR code solutions and UV tags, has developed QR codes for drinks brand Blighty Booch, a range of award-winning naturally fermented kombucha teas.
The company began brewing in 2018 and launched its current range, which includes flavours such as cherry, ginger and rosehip, as well as, recently added elderflower.
Across the range the brand will now feature Polytag's QR codes on its labels. The codes are applied as part of a standard digital printing process using Screen technology at Limpet Labels in Wrexham, north Wales. Once scanned, the QR codes take consumers to customisable, branded landing pages.
Scanning a tag provides consumers with product information, latest offers, recycling advice, or to Blighty Booch's online shop. Additionally, the Polytag platform will deliver Blighty Booch with consumption patterns and regional sales data.
Mark Pavey, director at Blighty Booch, said: "We are thrilled to join forces with Polytag and benefit from its exciting technology. Doing so not only provides our consumers with detailed product information straight to their phones, but it also gives us an additional direct-to-consumer sales and marketing channel that we didn't have access to before".
"The unique-every-time-QR codes really are a fantastic innovation and have the potential to revolutionise the way brands are brought to life for consumers. We are really looking forward to seeing how they complement our other marketing efforts," he added.
Alice Rackley, CEO at Polytag explained, "Not only will the codes provide Blighty Booch with an opportunity to communicate directly with consumers about their products, ingredients, health benefits, and more, but they will also enable the company – via the easy-to-construct bespoke landing page – to send consumers straight to their online shop."
This article was created in collaboration with AIPIA (the Active and Intelligent Packaging Industry Association). For a full update on active and intelligent packaging, come along to the AIPIA World Congress (co-organized by Packaging Europe) in Amsterdam on 14-15 November. The only smart packaging event covering the entire technology spectrum, the World Congress is a meeting place for the global active and intelligent packaging industry where brand owners, innovators, and other stakeholders can network and see and discuss the latest trends and innovations. Register to attend here.