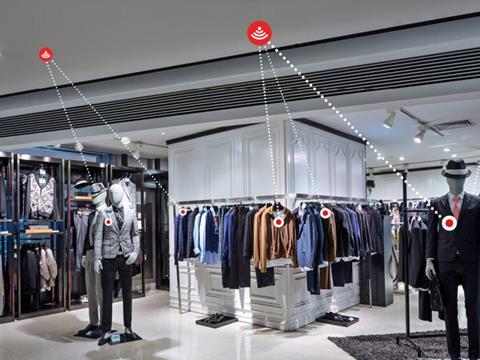 We talk a lot about RFID and NFC technology in the AIPIA newsletters, but, of course, the readers who identify and interpret the signal are a crucial part of the system. So, it is good to focus on that aspect of the RFID success story in the apparel trade for a change.
PervasID a fast-growing technology company born out of the Department of Engineering at the UK's University of Cambridge in 2011, provides passive RFID reader systems for automating inventory and asset tracking. Now it has launched TrackMaster, which it claims is the world's most accurate near-real-time tracking system.
Using the company's battery-free RFID reader expertise, TrackMaster allows retailers to accurately track the location of goods in retail stores, using existing tags and replacing what it says is time-consuming, labour-intensive manual handheld scanning. The system is already being implemented at several major retailers worldwide.
A single TrackMaster reader can cover densely packed areas of up to 120m² making it ideal for retail store sales and storage area settings, it claims. The antennas scan the location of goods within each zone and track when they move between zones.
The system integrates easily into third-party retail stock management applications, via an API, says PervasID, giving retailers a graphic map interface showing the location and movement of all the tagged goods.
Once the zones have been mapped out, the Power over Ethernet (PoE) based readers and antennas can be installed in the retailer's ceilings. The software partner integrates the zone map into a software platform and app.
As tags are read in a store, the location engine onboard the reader determines in which zone each tag is located based on a set of algorithms. If a tagged item is moved, the system software and related apps will update that location information.
Benefits of the inventory management system include enhanced sales performance and increased customer satisfaction, thanks to greater stock availability and greater visibility of stock for staff. It can also improve full-price sales and reduce markdowns, the company believes.
In addition, timely restocking and seamless in-store fulfillment can be achieved, while at the same time enhancing click-and-collect and online order services. And it can play a key role in loss prevention by reducing shrinkage (theft) due to being a highly inconspicuous monitoring system.
"There are huge benefits for retailers from accurate and timely location tracking of goods in their stores, however to date there has been no solution which meets the performance and price criteria to deliver this," claims Dr Sabesan Sithamparanathan, founder and president of PervasID.
"With TrackMaster retailers can now benefit from highly accurate, near real-time tracking of all of their goods, offering massive advantages in terms of reduced wastage and staff time saved. We're delighted to be deploying this ground-breaking system with our retail partners and look forward to further rollouts across retail and other industry vertical markets," he added.
This article was created in collaboration with AIPIA (the Active and Intelligent Packaging Industry Association). For a full update on active and intelligent packaging, come along to the AIPIA World Congress (co-organized by Packaging Europe) in Amsterdam on 14-15 November. The only smart packaging event covering the entire technology spectrum, the World Congress is a meeting place for the global active and intelligent packaging industry where brand owners, innovators, and other stakeholders can network and see and discuss the latest trends and innovations. Register to attend here.