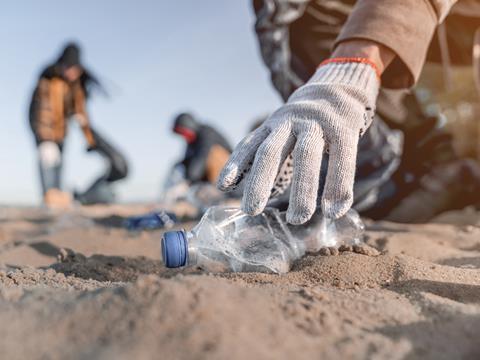 Bantam Materials has announced a new partnership with Klöckner Pentaplast (KP) which will see KP use a minimum of 30% recycled material made from waste plastic collected from coastal areas in its range of rigid films and trays for protein, produce and food-to-go.
The companies say that their collaboration will prevent 200 million plastic bottles from ending up in the world's oceans and waterways, and help towards creating a circular economy for plastics.
The material in question, Bantam's "Prevented Ocean Plastic", is a recycled plastic made from waste plastic that has been collected from coastal areas in developing countries that are at risk of ocean plastic pollution. Bantam says that the material has prevented 25,000 tonnes from entering our oceans within its first two years, while also supporting bottle collectors, collection centres, and local recyclers based in developing countries.
Raffi Schieir, director of Bantam Materials, says: "Increased demand of recycled plastic flake from producers like Klöckner Pentaplast will completely transform the amount of plastic that we prevent from getting into our oceans. As one of the largest producers of recyclable food packaging, KP is able to offer customers a choice of products with Prevented Ocean Plastic content.
"Together we are working towards creating a larger circular economy for plastic that is essential to help combat the climate crisis, while protecting our oceans and wildlife from plastics that have been mismanaged. We're delighted to collaborate with KP."
To be considered ocean-bound plastic, Bantam says that its Prevented Ocean Plastic must meet rigorous academic standards. These include being found within a 50km distance of an ocean coastline or major waterway that feeds into the ocean, coming from a source country or region that either lacks waste management infrastructure or where the infrastructure is overwhelmed, or emanating for areas in which there is a significant risk to wildlife.
Adam Barnett, president of food packaging at KP, adds: "Increasing our use of recycled materials is a vital part of us meeting our environmental targets. By using Prevented Ocean Plastic we're able to reduce the amount of recyclable plastic reaching our oceans harming our environment. We look forward to collaborating with Bantam Materials and the environmental and social benefits it will bring."