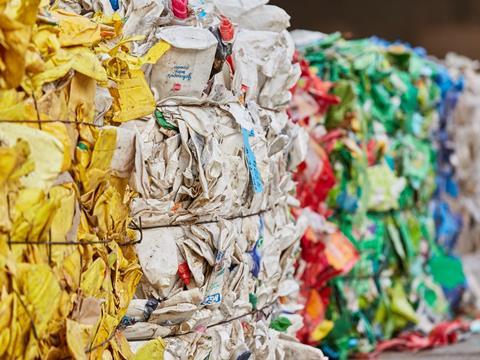 TOMRA has signed a majority ownership agreement with Plastretur to found a plastic packaging sorting plant in Norway in a €50 million joint venture set to sort 90,000 tonnes every year.
Set to be split 65% TOMRA and 35% Plastretur, the facility will be built in Holtskogen Næringspark, Indre Østfold Holtskogen, with the capital investment consisting primarily of machinery and equipment. Construction is scheduled to start in mid-2023 for commissioning in Q4 2024 and full operation by Q1 2025.
The plant will reportedly be the first dedicated plastic packaging sorting plant in Norway to accept municipal sourced, separated, and mechanically recovered mixed plastic waste. Plastretur will be responsible for the sourcing of plastic packaging waste from Norwegian municipalities, trade, and industry, which will be sent to the plant as infeed.
There TOMRA will sort the waste into seven polymer types, which will then be processed into high-quality fractions and sold for use in new packaging and products.
The collaboration is envisioned to contribute towards a circular economy in Norway, close the gap in plastics recycling, meet growing demand for high-quality plastic fractions, and take steps towards future recycling targets. TOMRA also aims to build profitable businesses focused on using the company's technology to overcome environmental challenges.
"I am thrilled to be working on this initiative, which will play a key role in transitioning Norway's plastic packaging into a circular economy," says Joachim N. Amland, SVP TOMRA Feedstock. "We are recovering material that would otherwise have been lost to incineration and, using our existing TOMRA technology, we are supplying it to the market at very high-quality levels."
"On behalf of Plastretur, I am proud that our initiative to build a Norwegian plastic sorting plant is being realised," adds Karl Johan Ingvaldsen, CEO of Plastretur. "The plant will be the cornerstone in building the national infrastructure Norway needs to achieve future recycling targets. With this plant we are playing a major part in building a Norwegian plastic recycling industry and reducing the cross-border transport of waste."
"We must move towards a circular economy now," says TOMRA president and CEO Tove Andersen. "That means working together across the value chain to find solutions as quickly as possible, because the solutions do exist. This joint venture is proof that this is possible and TOMRA is proud to play a key role in it."
Last year, the Perfect Sorting Consortium was founded – uniting nine brand owners, two universities, and an independent test and research centre in the development and testing of an AI decision model to improve the sorting of end-of-life packaging.
More recently, Professor Edward Kosior, CEO and co-founder of Nextek and NEXTLOOPP, gave us his perspective on the importance of sorting post-consumer packaging in a circular economy – a move thought to bring higher speed, lower costs, and simplicity to the process.
If you liked this article, you might also enjoy:
McDonald's Director of Sustainability in Europe on the company's approach to packaging sustainability
McKinsey on whether or not on-pack sustainability claims affect consumer spending
Perspectives from industry-leading experts on the EU's Packaging and Packaging Waste Directive revisions
A deep dive into the most important packaging sustainability trends and solutions