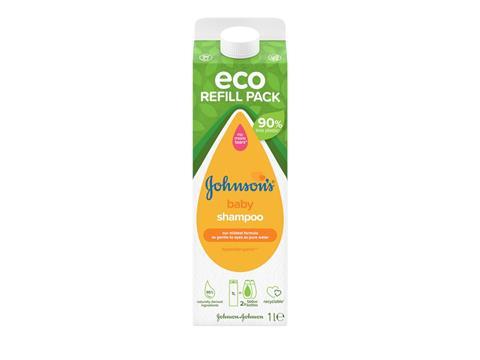 Johnson & Johnson brand, JOHNSON'S Baby, has announced the launch of new paper-based refill cartons for existing plastic bottles of its Baby Shampoo, Bedtime Bath, and Top-to-Toe Wash toiletry products.
According to JOHNSON's Baby, the refill cartons are made from 76% paper from FSC Mix certified well-managed sources and 24% plastic, which represents around 8g per 1L pack. The company says that the plastic is required to protect the formula inside and maintain the pack structure, while offering an overall plastic reduction – one tonne of plastic will reportedly be saved for every 11,202 refill packs sold.
In addition, once the cartons are empty, JOHNSON'S Baby claims they can be recycled where facilities exist. 92% of local councils in the UK apparently have recycling options for paper-based cartons, which may require taking it to a local household recycling point.
JOHNSON'S Baby says that the carton design includes a step-by-step infographic that explains how to refill an existing plastic bottle, as well as a QR code consumers can scan for video instructions and information on how to recycle their empty carton. The company adds that the cartons are also designed for easy pouring and use.
The refill packs will be available as 1L cartons, which will allow consumers to either refill a 500ml plastic bottle twice or small packs multiple times. The recommended retail price (RRP) for the 1L carton refills starts at £4.25 in the UK, which JOHNSON'S Baby says offers consumers better value on a price per ml basis compared to the RRP of the current bottled range.
In the UK, the refill packs will be sold by Sainsbury's and Amazon from the 1st of May, 2022, and will then be available from Boots, Tesco, Superdrug, and Ocado from mid-May. JOHNSON'S Baby adds that the refill range will be rolled out over 20 markets in the EMEA region this year.
Hannah French, marketing director of Northern Europe at Johnson & Johnson Consumer Health, comments: "From this month, parents will be able to buy the same JOHNSON'S Baby products they love, but now in fully recyclable paper-based packaging.
"We're making it easier for families to make more sustainable choices, with just one switch within their daily routines."
A 2021 survey conducted by Zappi Screenlt on behalf of JOHNSON's Baby found that UK consumers viewed refill cartons as environmentally friendly, innovative, convenient, and easy to understand.
French concludes: "At JOHNSON'S Baby, it's our job to build for a better tomorrow. Part of this job involves improving our packaging.
"The refills range is the latest step in JOHNSON'S Baby journey, following on from other huge changes such as our switch to plastic-free cotton bud packaging, which saved the equivalent of 30 million plastic carrier bags."