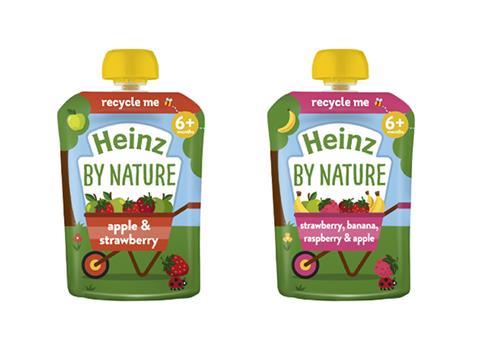 Heinz is set to launch a mono-material baby food pouch that is recyclable via kerbside collection.
The company reports that this UK launch, made possible through collaboration with Tesco's technical team and recycling charity RECOUP, is predicted to make 2.8m Heinz for Baby fruit pouches "easily recyclable" and save nearly 20 tonnes of plastic from Heinz for Baby fruit pouches going to landfill every year.
Being made entirely from polypropylene, Heinz is describing its solution as the "first baby food pouch to be truly recyclable". It has been assessed by On-Pack Recycling Label (OPRL) as meeting the requirements of their 'Recycle' designation, which means each pack will feature the OPRL label.
Heinz for Baby plans to roll the scheme out across all six of its fruit pouch varieties in 2022. This is in line with the company's mission to remove plastic where possible and its aim to make 100% of its packaging recyclable, reusable or compostable by 2025.
Jojo de Noronha, president for Northern Europe at Kraft Heinz, commented: "We're very proud to be the first name in baby food to announce the UK's first kerbside recyclable pouch and help families be more sustainable, because we know this is very important to them.
"Until now it's not been possible to take a sustainable approach when it comes to baby food in pouches, but all that is set to change, and we are delighted to now be able to offer parents of little ones the convenience coupled with sustainability they always wanted! This is another important step in the Heinz pledge to aim to make 100% of our packaging recyclable, reusable or compostable by 2025."
Jane Bevis, executive chair at OPRL Ltd, adds: "People want to do the right thing but need help from businesses and government to make it easy for them.
"This innovative approach to re-designing baby food packaging and working with retailers to provide additional recycling points is exactly what's needed to accelerate the journey to more sustainable packaging. We're delighted these Heinz for Baby pouches will be easily recyclable, accepted in-home recycling, and will carry our 'Recycle – Cap On' labels."