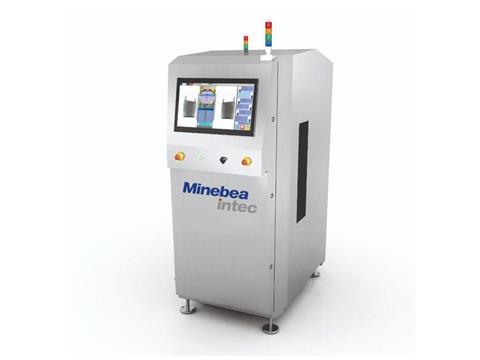 Minebea Intec adds two new products to its premium horizontal X-ray inspection portfolio: the Dymond DSV and Dymond D Monoblock side shooters, which the company says will offer affordable and compact quality assurance solutions for the food, beverage, and pharmaceutical industries.
According to the company, the Dymond DSV and Dymond D Monoblock products allow for foreign objects such as glass, stones, metal foil or plastic parts to be detected during the production process, which can help to prevent contaminated products from reaching the consumer.
The Dymond DSV offers a multi-sided radioscopy of the products, reportedly with a single X-ray source and using a 'dual split view' (DSV) method to expand the X-ray beams. This means that an X-ray image can be detected both when a product enters and exits the radiation cone.
The company claims that the Dymond DSV can look for foreign objects in as a tin at a rate of up to 650 pieces per minute, and that it can detect very small foreign objects measuring up to 1mm. These features are apparently maintained even during perspective uncertainties on production lines, such as rounded glass bottoms.
In addition, the Dymond DSV can be integrated into existing production facilities and offers compact dimensions, according to the company. The single-beam solution used by the Dymond DSV reportedly offers both precision and simplicity of maintenance due to its reduced technical complexity.
The company adds that hygiene considerations were factored into the machine's design, meaning it features fewer edges and folds in which residues can build up, allegedly simplifying cleaning. The Dymond DSV meets the protection class IP65, according to Minebea Intec, and uses resilient materials to provide resistance to cleaning agents.
Minbea Intec has also added a new monoblock option to its Dymond D X-ray inspection solution, which it claims eliminates the need for active water cooling. The company says that this, in turn, offers easier installation and maintenance.
The Dymond D Monoblock solution uses a high output of 2x500 watts, while its image processors offer high sensitivity. This reportedly enables it to detect foreign objects that are positioned vertically or are hidden at the edge or bottom of a container.
A selection of feed systems and separators are available for each model.
Minebea Intec adds that, for maintenance communication, statistical process control, and optimisation of automated production processes, all side shooters of the Dymond series are available with Ethernet, OPC-UA, Modbus and SPC@Enterprise connection. The side shooters apparently communicate with other systems along the production like to facilitate regular and automated calibration.
The latest additions to Minebea Intec's portfolio provide an alternative to its Dymond D and Dymond S side shooters for horizontal X-ray inspection.
Dr Thorsten Vollborn, global product manager at Minebea Intec, comments: "When talking to Production Management and Quality Assurance, we found that greater safety with respect to foreign objects is desired.
"However, users want to avoid the higher resulting costs of a larger solution.
"In this case, the two machines Dymond DSV and Dymond D Monoblock offer a great alternative with which most of the applications can be covered."
Previous X-ray inspection systems introduced by Minebea Intec include Dymond Bulk, which is intended specifically for bulk goods in the food industry, and Dylight, an entry level 'Plug and Play' solution for a range of applications.