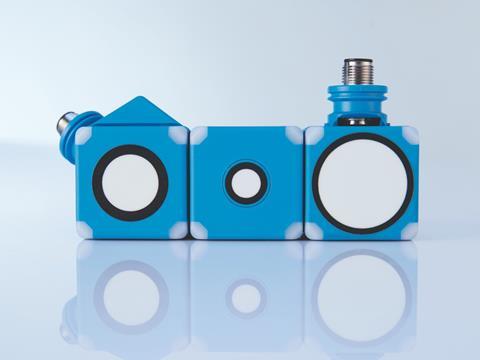 SICK has released its 'push, lock and play' UC40 cube sensor, which reportedly offers ultrasonic detection at up to 5m and operates effectively in challenging industrial conditions.
The UC40 is compact and equipped with push-lock mounting and IO-Link – which, SICK claims, means that it can be integrated into machinery, on conveyors, and on automated mobile vehicles with ease. Its compact and rugged IP65/67 housing and rotatable sensor head are designed to fit into small machine spaces.
The gloss, colour, transparency, and reflectivity of a detected object are not thought to affect the machine's presence detection – thus making it ideal for packaging applications, amongst others. It also claims to output reliable distance or level measurements in a range of industrial conditions, including poor ambient light and dusty or dirty environments.
Its interference echo suppression capability expects to ensure a stable ultrasonic signal, while its signal is stabilised by selectable sensitivity hysteresis for the benefit of laterally approaching objects. IO-Link can be used to monitor signal quality during operation and four status LEDs have been implemented to indicate that the machine is operating as expected.
Apparently, its distance measurement data is consistently reliable thanks to its integrated temperature compensation. This continuously records the ambient temperature and automatically adjusts the measured value calculation.
Standard M12 cable connectors, IO-Link masters, Sensor Integration Machines, and a range of additional accessories are also available – thus enabling easy configuration to deliver data in edge applications and multi-device configurations, according to SICK.
"With the SICK UC40, it couldn't be easier to harness the power of reliable ultrasonic sensing whatever the environment," explains Nick Hartley, SICK's UK Market product manager for Distance Measurement. "With a click and twist of the push-lock bracket, the UC40 is mounted in no-time, whether in a new machine or as a replacement for an existing sensor.
"It's easy to set up the UC40 using its adaptable sound cone, and teach-in is quickly achieved using SICK's SOPAS software. Its tried and tested factory settings ensure it can be quickly adapted to the broadest range of standard industrial applications. The digital push-pull output for IO-Link also means the UC40 can be integrated with minimal cabling into both existing and new installations."
A Smart Box Detection system was previously added to SICK's deTec4 Safety Light Curtain in a bid to optimise operator safety and boost the efficiency and consistency of packaging lines.
Meanwhile, EyeC previously sought to refine its print inspection capabilities with the ProofRunner Wide Web, designed for wide web applications in flexible packaging; and an X-ray-enabled inspection unit for food and beverage containers from Wipotec is set to debut at this year's Pack Expo Las Vegas.
If you liked this article, you might also enjoy:
The Lidl approach to packaging sustainability
How did Brazil achieve its 100% aluminium can recycling rate – and can it be replicated in the EU?
Experts have their say on the EU's Packaging and Packaging Waste Directive revisions
A deep dive into the most important packaging sustainability trends and solution