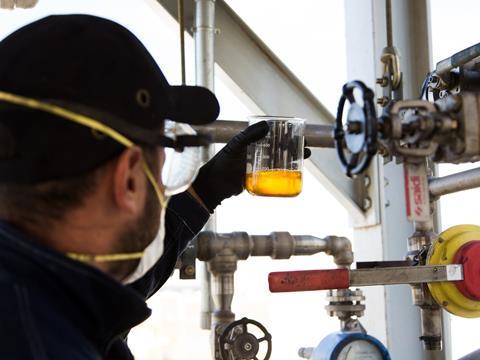 INEOS Olefins & Polymers Europe has signed an agreement with Plastic Energy aiming to produce 100,000 tonnes per annum of recycled raw materials from plastic waste at its steam cracker in Germany.
Production is set to be based at INEOS' steam cracker in Köln, with Plastic Energy's recycling technology producing a raw material known as TACOIL that can reportedly be used to create virgin-quality polymers. The TACOIL will then be further processed before it enters the crackers, which are thought to ensure that the resultant product is suitable for contact-sensitive packaging.
It is hoped that the raw materials will meet the safety requirements for food contact and medical applications, with the recycling process aiming to cut down on plastic pollution and reduce reliance on fossil-based raw materials – which, in turn, is expected to lower greenhouse gas emissions during the production process.
Supposedly, the companies' collaboration has already resulted in the successful conversion of end-of-life plastic waste into virgin-quality polymers, which have been used . A third-party organisation such as ISCC or RSB is anticipated to use a mass balance approach to provide certification that the raw material is providing the sustainability benefits that it claims to.
Rob Ingram, CEO of INEOS O&P Europe North, said: "Advanced recycling is an essential part of the solution for turning plastic waste into materials that can be used for demanding applications. Our position is that advanced recycling has to be done at scale in order to make the process environmentally and commercially viable. I'm therefore delighted to take this first step with Plastic Energy towards building that kind of capability from day one."
"This is further evidence of our commitment to creating a more sustainable future for our industry and in particular developing a circular economy that keeps valuable materials in use and out of the environment."
Carlos Monreal, founder and CEO of Plastic Energy, added: "We are pleased to announce this project with INEOS to further scale our portfolio of plants in Europe. TACOIL from our recycling process has already been used in products that have been commercialised on the European market, and we look forward to working with INEOS to enable the production of more recycled content."
TotalEnergies has signed its own agreement with Indaver to purchase petrochemical feedstock generated from recycled mixed polyolefins, intending to use it in contact-sensitive packaging applications.
BASF has also signed a purchase agreement for pyrolysis oil derived from mixed plastic waste from ARCUS Greencycling Technologies, which is hoped to contribute towards the production of BASF's Ccycled products.