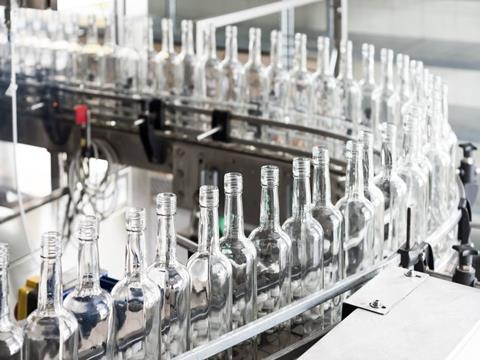 In January 2022, Dassault Systèmes, Ardagh Group, and EXXERGY will commence 'virtual twin' trials to test the use of an innovative technology that reportedly increases the strength and reduces the weight of glass bottles, starting with Diageo's Johnnie Walker scotch bottle.
A 'virtual twin' is a real-time digital representation of a product or process that is used to model, visualise, and predict the behaviour of new innovations before physical trials. According to the companies, the virtual trial will reduce the risks and timescales of developing the lightweighting technology, while also limiting the amount of resources used in the process.
The trial will research and develop a new external coating for glass bottles, which will apparently reduce the naturally occurring micro-cracks in the glass surface.
The companies claim this will make the glass much lighter while maintaining its strength. The new technology will, according to the companies, reduce the raw materials and energy used in the glass melting process, as well as decrease emissions in the manufacture and transportation of the glass bottle.
In addition, the companies say that the glass bottle will maintain its 100% recyclability even with the new external coating.
Ardagh Group and EXXERGY will collaborate on the research and development of the coating for global beverage leader Diageo, which makes Johnnie Walker scotch, Smirnoff vodka, and Gordon's gin.
John Sadlier, chief sustainability officer at Ardagh Group, comments: "Together with our customers and supply chain partners, we are eager to explore the potential of digitalisation to drive new and innovative lightweighting solutions."
Meanwhile, Dassault Systèmes will use its BIOVIA applications to create a nanoscale twin of the coatings, simulate their interaction with the surface of the glass, and test their efficacy.
Florence Verzelen, executive vice president of industry, marketing, and sustainability at Dassault Systèmes, adds: "Using Dassault Systèmes' virtual twin technology, companies can design and simulate radically different new sustainable materials, products and processes in record time. They can be right, but also sustainable the first time."
There is currently a range of new innovations emerging across the beverage industry as companies and brands seek to meet sustainability targets. The spirits brand Absolut is collaborating with Paboco and other brand such as Calsberg to develop a bio-based and recyclable paper bottle for pre-mixed cocktails, which is made from 57% paper. Other companies, including Berry M&H and evian, have transitioned to beverage bottles made from PET or rPET – with Berry's bottle solution designed to be light weight in order to appeal to the e-commerce market.
If the virtual trial is successful, the new coating technology from Ardagh Group and EXXERGY will undergo glass bottle testing in summer 2022.