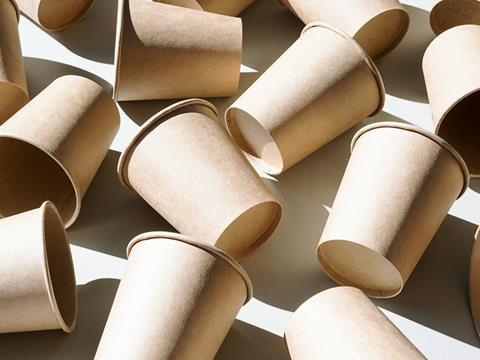 McDonald's, SSP – The Food Travel Experts, C2 Centre, and the National Railway Company of Belgium (SNCB) have joined Stora Enso and Huhtamaki's Cup Collective initiative with the shared goal of increasing paper cup recycling volumes in Europe.
The Cup Collective intends to recycle half a billion paper cups in Europe within the next two years. Its first collection bins are currently available in venues throughout Brussels ranging from restaurants to transit hubs, with the cups being sent to Stora Enso's site in Langerbrugge, Belgium to be recycled.
Stakeholders both within and outside the European value chain – including food service providers, retailers, transportation services, waste collectors, and management services – are now being encouraged to partner with the Cup Collective as the initiative, its first partners, and other interested stakeholders gathered for a panel discussion in Brussels earlier today.
Peter Goodwin, managing director and co-founder of co-cre8 – the firm managing the Cup Collective programme – said: "It is time to make paper cup recycling an easy, everyday activity. We are now able to provide a platform to collect and capture the value of paper cups at an industrial scale and are calling businesses to get on board and become part of the Cup Collective programme."
Organisations interested in partnering with the project are encouraged to contact co-cre8 via the Cup Collective email, hello@thecupcollective.eu, or to visit its website.
New partner McDonald's' UK branch and Costa Coffee recently worked alongside Roadchef to fund a takeaway cup collection and recycling programme; this was set to result in recycled stationery and paper packaging thanks to James Cropper's specialist facilities.
Last year, Essity's Tork brand and its logistics partner HAVI ran a pilot scheme in Germany in which beverage, milkshake, and ice cream cups from McDonald's were turned into hygiene paper.