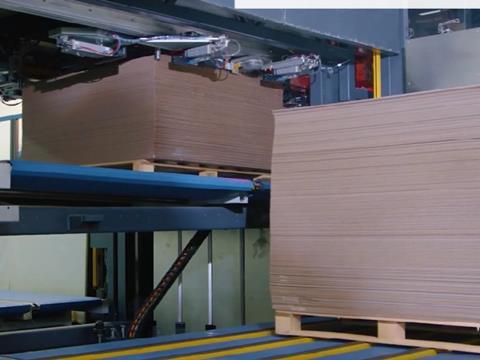 HP Inc. has recently rolled out an enhanced sheet-feeding system for its PageWide C500 Press, which it says will help to accelerate growth in the digital corrugated market through higher productivity and lower costs.
The HP PageWide C500 is based on HP Thermal Inkjet technology, providing offset print quality for a range of corrugated packaging and display applications on both coated and uncoated sheets, and for low to high conversion volumes of litho and flexo jobs. It reportedly reduces the cost of manufacturing boxes and gives companies digital flexibility.
According to the company, the new top feeder system supports a wider range of sheets, including thin and micro-flutes, while maintaining a smooth feeding process and fast job changeovers. It is aimed at improving operating profits and reducing waste for convertors.
In addition, the feeding enhancement includes stack topography alignment technology that apparently compensates for uneven or warped stacks, as well as a dynamic stack alignment technology to correct vertically unaligned stacks.
The new system also features a smart auto-recovery technology that HP says can identify and overcome feeding problems related to bad stacking or damaged sheets, which can eliminate the need for manual intervention by operators.
PRINTING United Alliance recognised the C500 top feeder innovation with the 2021 Pinnacle InterTech Award. The system also won second place at the AICC/BCN/CT Innovator of the Year competition in the Machinery category, which took place at SuperCorrExpo.
In 2019, HP's water-based corrugated packaging printed on the HP PageWide series was recognised as easily recyclable using standard industry recycling technology by Papiertechnische Stiftung (PTS). The same series was also awarded UL ECOLOGO Certification for meeting printing inks sustainability standards – the first digital corrugated printing solution to receive the credentials, according to HP.