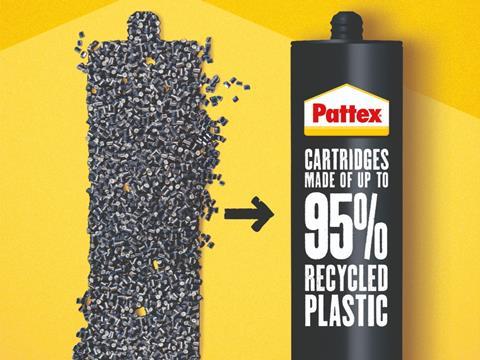 Henkel is relaunching its bonding and sealing portfolio in cartridges containing up to 95% post-consumer recycled plastic; the move is hoped to improve the company's plastics footprint.
Construction adhesive and sealant products under the Pattex, Rubson, Sista, Ceresit, and Unibond brands, among others, will be packaged in cartridges containing a minimum of 80% and up to 95% recycled plastic made from post-consumer recyclate. This shift aligns with last year's relaunch of Henkel's Fix Construction Adhesives in central Europe and will continue to roll out amongst European product ranges until the end of 2024.
Reportedly, global plastic production has increased by an approximate factor of 20 over the last 50 years. In response to increasing calls from customers and consumers to improve sustainability in a range of packaging applications, Henkel hopes that the new packaging concept will contribute to its own targets for 2025, including a 50% reduction of virgin plastics in its product packaging and full recyclability and reusability.
Baptiste Chieze, director Marketing, Digital and E-Commerce for consumer adhesives at Henkel Adhesive Technologies, explained: "Sustainability is an integral part of our strategy and the new packaging concept for our bonding and sealing portfolio is another strong proof point for executing against our ambitious packaging targets – without any compromise in the performance of our products.
"This is an important step to further reduce the use of virgin plastic and to increase the circularity of plastic waste by using PCRs. We have started the relaunch with a selected portfolio in Central Europe and France already in 2022 and we will further roll-out the new cartridges made from recycled plastics across a major part of our portfolio in other European countries step-by-step until end of 2024."
The new recycled cartridge for Pattex's No More Nails product has already been named the Product of the Year 2023 by Poyfrance based on a perception study amongst 15,000 consumers and at least 500 product users. An expert jury made the judgement based on perceived innovation, attractiveness, purchase intent, and use tests, with product and effectiveness, responsible packaging, and high impact on the market ultimately tipping the scales in Pattex's favour.
Further packaging developments from Henkel include its implementation of 100% post-consumer recyclate from the 'yellow bag' collection system into blister packaging for its toilet fresheners.
Meanwhile, Berry Global and Everbrand have incorporated 50% post-consumer recycled plastic into the container for IS-FRITT de-icing products, and Berry Superfos has helped Norwegian dairy company TINE transition into polypropylene pots containing 50% recycled material for its Rømme and one of its sour cream products.
If you liked this article, you might also enjoy:
The L'Oréal approach to packaging sustainability
The way we talk about plastic needs to change – here's how to get it right
What steps is Apple taking to make its packaging more sustainable?