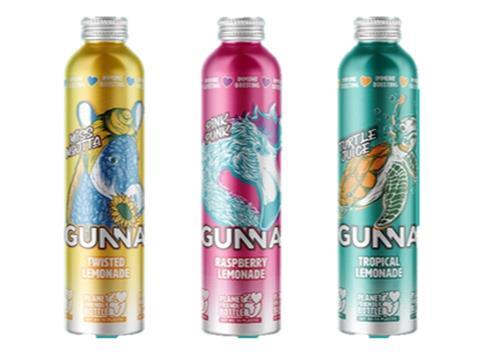 GUNNA Drinks, an anti-plastic campaigning soda brand, has packaged three of its immune boosting lemonades in a range of aluminium bottles – a move expected to reduce plastic waste and meet growing demand for functional food and drink products.
Around 70% of soft drinks are currently packaged in single-use plastic bottles, GUNNA says. A transition into what is claimed to be the UK's first range of soft drinks sold in aluminium bottles hopes to meet increasing demand for both sustainability-minded packaging and wellness beverages.
Instead of a standard 330ml can, GUNNA's drinks are packaged in 500ml resealable cans made of aluminium, which many claim to be an infinitely recyclable material.
The development follows GUNNA's petition to the UK Government calling for a ban on plastic bottles, with a national average of 35.8 million plastic bottles thought to be used in the UK every year and only 19.8 million of them recycled. Only around 10% of that figure is recycled in the UK itself, with the rest sent to landfill or exported.
Furthermore, the line is anticipated to further GUNNA's environmental credentials. The company reports that it is already double carbon negative and offsets two grams of carbon for every gram created making its drinks; it is also said to make annual investments in the Clean Oceans Project, which collects plastic waste from beaches.
"Putting the planet first is at the heart of GUNNA's company ethos and we're proud to be the first-to-market with aluminium bottled soft drinks," said Melvin Jay, founder of GUNNA Drinks. "We've invested heavily in this new planet-friendly packaging and although this comes at a premium, costing around 10% more than other formats, our research resoundingly shows consumers are prepared to pay a little more to avoid plastic.
"Coupled with the new immune boosting sodas, we believe this is a compelling proposition for retailers, with average spend on functional wellness drinks currently more than twice the average price per litre spent on soft drinks. We hope to see other brands follow suit and switch to an aluminium bottled format in place of the hugely damaging single use plastic that is all too common.
"We're confident that this new packaging option will be a game-changer for our business, our customers and our planet."
In an effort to reduce its own carbon footprint, Waitrose has recently switched its small wine format packaging from glass bottles to aluminium cans.
Winemaker and Small Things Wine founder Ian Batt previously spoke to Packaging Europe about its own canned wine solution. The decision was made to help consumers carry their wine around with them and enable the wine to be distributed at events in light of Australia's single-use plastic cup ban.
If you liked this article, you might also enjoy:
The Lidl approach to packaging sustainability
How did Brazil achieve its 100% aluminium can recycling rate – and can it be replicated in the EU?
Experts have their say on the EU's Packaging and Packaging Waste Directive revisions
A deep dive into the most important packaging sustainability trends and solution