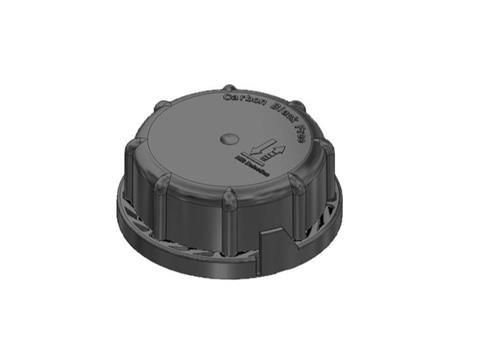 Greif, Inc., has developed a plastic screw cap for its jerrycans using an alternative black colour that does not contain carbon so it can be detected using near-infrared (NIR) technology.
Conventional black plastics containing carbon black colourants are undetectable in recycling facilities that use NIR technology to sort waste, as carbon black is able to absorb NIR. This makes black plastic more difficult to recycle, despite the fact that it is a recyclable material, and often results in it ending up in landfill.
Greif's new packaging material reportedly uses an alternative black colour that does not contain carbon, which allows it to be detected by NIR. According to the company, the carbon black-free screw cap attaches to all of Greif's jerrycans, which are used for applications including food, beverages, chemicals, and agrochemicals.
The company first launched the closure in Scandinavia, where changes in legislation state that packaging and closures must not be dyed with carbon black. The screw cap is available through Greif's global closures business, Tri-Sure.
Jacob Demén, sales director Scandinavia at Greif, comments: "The new caps will be more easily sorted for recycling, and in time we hope that they become the standard across the rest of Europe and even worldwide.
"It is a small step change, but will have a significant impact and underlines our commitment to producing innovative, safe and high-performing products that have a low environmental impact. Innovations such as these support our resolve to embrace a low-carbon future and minimize raw material use by innovating new products and solutions that support a circular economy."
Digital watermarking projects including HolyGrail 2.0, which was successfully validated in March this year following semi-industrial trials, use NIR to sort packaging waste with the potential to develop new, more granular post-consumer recycling streams. Solutions such as Quinn's detectable black PET trays that use a black colour additive to make them identifiable to NIR and Greif's newly-launched screw caps could help to improve the sortability of packaging waste.