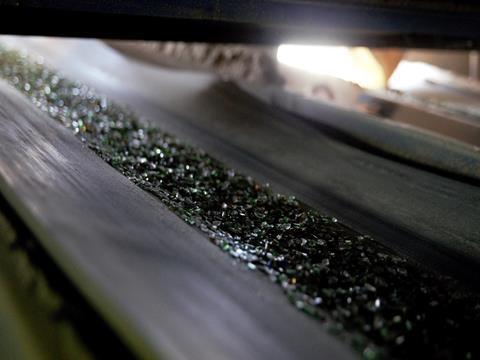 GreenGlass has invested €10 million in a new, post-consumer glass waste facility in Romania, as well as in the modernisation of its existing facilities, which will reportedly increase its production capacity to 260,000 tonnes per year.
The plant will be built in the proximity of Bucharest Country and construction will start in the second half of 2022, with the facility set to be finished in 2023.
GreenGlass says it will invest in optoelectronic sorting equipment and other leading technology, allowing it to separate and remove contaminated materials from glass and resulting in the increased efficiency of the recycling value chain. This advanced recycling process reportedly results in glass cullet with a high degree of purity of at least 99.99%.
In addition to post-consumer glass recycling options, GreenGlass explains that the new facility will also recycle flat glass from the automotive industry and glass from construction and demolition. This will apparently allow the new plant to recycle types of glass waste that are typically difficult to treat.
The aim of the plant is to provide producers with recycled secondary raw materials. The recovered materials will be directed into various industrial sectors as cullet and will be used in the production of flat glass, according to GreenGlass.
GreenGlass further claims the new glass recycling facility will bring the company's total processing capacity to the amount needed to cover the collection target Romania has set for glass packaging waste as part of its Deposit Return Scheme (DRS). The new plant is also expected to create more than 100 local jobs during the construction phase and 90 permanent roles once it is complete.
Marius Costache, general manager at GreenGlass, comments: "The company continues its strategic plan of investing in the most modern recycling technologies, at the same time considering waste as part of the economic circuit, where glass is collected and transformed 100% into a valuable resource.
"Once the new plant will start its activity, GreenGlass will be able to recycle all the glass that Romania must meet as a collection target, while being the solution for recycling the materials from the Deposit- Return System.
"We are also responding to the growing demand from glass manufacturers to increase the share of recycled material in their products, in order to reduce the use of virgin materials.
"We aim to create a truly circular economy in Romania, both for packaging glass waste, but also for glass waste resulting from other streams.
"We consider that a new further investment in the Central-West area of Romania will offer us the opportunity to generate a positive and responsible value and to optimize all operations that are part of the collection and recycling system, meaning proximity to generators of waste, lower logistics costs, less CO2 emissions."
Last year, ALPLA Group, Echohelp, and United Polymer Trading (UPT) announced that they would jointly invest in an extrusion line at Echohelp's site in Romania, with the aim of producing 15,000 tonnes of food-grade, post-consumer recycled PET annually.