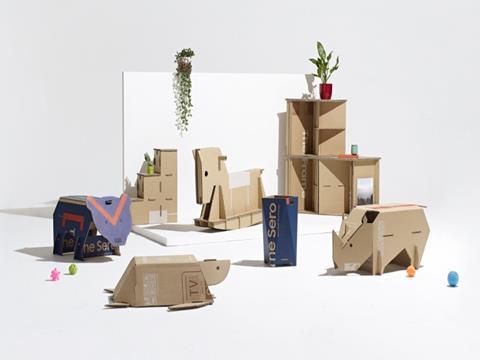 Samsung has announced that its 2022 sustainability initiatives will include packaging a wider range of home appliances with its eco-packaging corrugated cardboard boxes, which can be upcycled into small furniture, and the incorporation of recycled materials into its interior packaging.
According to Samsung's 2021 Sustainably Report, its eco-packaging solutions include packaging for a range of TV products, such as The Serif and The Sero, which can be upcycled. For example, the corrugated carboard boxes can be made into items such as pet products and small furniture, with QR codes and a dot pattern matrix printed on the boxes to allow consumers to check the instructions for upcycling.
Daehee Yoon, one of the designers of the eco-packaging range, explains: "One out of every five dots is larger than the others, and the number of dots serves as the unit of measurement.
"This makes building your own upcycled furniture easy and accessible, and additionally makes the furniture look good once it's built."
Sungdo Son, another member of the design team, adds: "The QR codes enable you to access building manuals swiftly without the need to install an app.
"The electronic format also makes it easier to add and modify plans."
According to Jonathan Whang, also involved in designing the eco-packaging: "The level of building expertise required and the time it takes to build each respective piece of furniture are noted in the manuals so that consumers can make informed choices about what to make with their packaging
"After the eco-packaging was distributed, it was interesting to see how much the final products varied in terms of shape and appearance, despite the fact that they were built using the same sets of plans."
Samsung is planning to expand its use to eco-packaging to encompass a larger line-up of products, including home appliances like vacuum cleaners, microwave ovens, and air purifiers. The expanded range will further enable consumers to repurpose or upcycle packaging, aligning with existing products.
The expanded line of eco-packaging has been available in South Korea since last year, with a global rollout expected in 2022.
The company adds that it will be increasing its use of recycled materials to include the interior packaging of TV boxes in 2022. In 2021, all of Samsung's TV boxes reportedly included recycled materials. Going forward, recycled materials will now also be incorporated into Styrofoam, box holders, and plastic bags inside the box, according to Samsung.
Last year, Samsung committed to eliminating single-use plastics from its product packaging by 2025 – with the recently announced additions to its eco-packaging and sustainable packaging marking another step in achieving this goal.