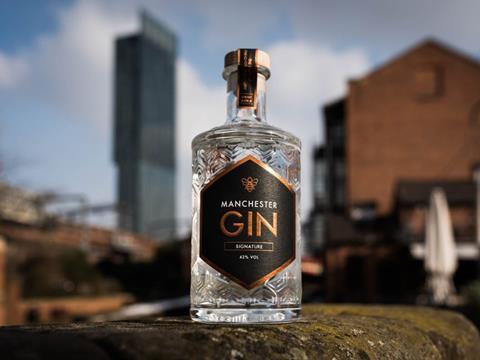 The Label Makers, based in Bradford, UK has worked with the Spirit of Manchester Distillery to re-label its existing small-batch premium gin, Manchester Gin – Signature. A sustainability trail, run in conjunction with Avery Dennison, incorporates a QR code on the rear label of each bottle produced.
Each QR code is unique and will show the bottle's full carbon footprint. On scanning, the code will provide information on the distillery processes, ingredients used, information about the company, and suggested servings for the product. To create the label, it used variable data technology through its Xeikon CX 3 digital press, which enabled each label to have an individually printed QR code.
"We have proved that this ground-breaking technology works, and that going forward many businesses will be able to accurately measure the unique carbon footprint of their products, as well as giving consumers full environmental transparency when choosing a product to purchase," said Label Makers' Ben Robinson.
"Over the years, we have established a great working relationship with the distillery, and we are delighted to have been part of this particular project. Providing full environmental transparency of the production process is a great concept that we fully endorse."
Meanwhile in the USA, the Mars brand SKITTLES is using on-pack QR codes as part of its ongoing mission to support and increase visibility for the LGBTQ+ community. The brand is celebrating Pride 2023 by elevating LGBTQ+ stories through teaming up with Audible, actor and comedian Cameron Esposito's QUEERY podcast, GLAAD, and the five artists who designed SKITTLES' 2023 Pride packs.
From the beginning of June, consumers were able to scan the QR code on any SKITTLES Pride pack, which will direct fans to a free collection of LGBTQ+ stories on Audible, upcoming special edition Pride episodes of Cameron Esposito's QUEERY podcast, and other meaningful stories of Pride. The SKITTLES Pride Audible collection is available to stream for free until July 31 and can be discovered through the QR code on-pack or via the website.
"The SKITTLES brand is proud to continue our four-year partnership with GLAAD and introduce new collaborations this year with Audible and Cameron Esposito, " said Gabrielle Wesley, chief marketing officer, Mars Wrigley North America. "The SKITTLES brand is honoured to have the opportunity to help amplify voices from the LGBTQ+ community through the power of storytelling, which will help to increase support, generate inclusion, and build community."
"We're on a mission to ignite the world's imagination by bringing stories, ideas and characters to life," said James Finn, head of global brand and content marketing, Audible. "Teaming up with SKITTLES for Pride 2023 epitomizes our focus and passion to elevate LGBTQIA+ voices that deserve to be heard."
This article was created in collaboration with AIPIA (the Active and Intelligent Packaging Industry Association). For a full update on active and intelligent packaging, come along to the AIPIA World Congress (co-organized by Packaging Europe) in Amsterdam on 14-15 November. The only smart packaging event covering the entire technology spectrum, the World Congress is a meeting place for the global active and intelligent packaging industry where brand owners, innovators, and other stakeholders can network and see and discuss the latest trends and innovations. Register to attend here.