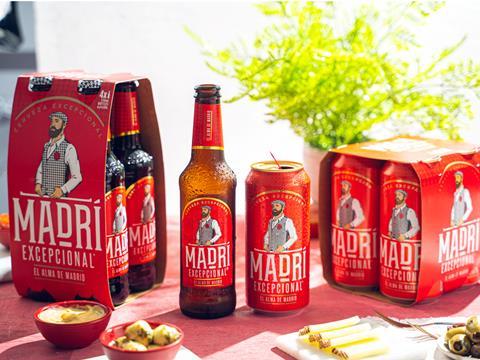 Major beer brand Molson Coors has launched the next stage of its multi-million-pound summer marketing campaign for its Mediterranean style-lager, Madrí Excepcional. The 'El alma de Madrid' or 'The Soul of Madrid' campaign features on-pack QR codes giving consumers access to its first-ever 'Conectada' platform.
The launch forms part of Madrí Excepcional's summer campaign and builds on its recent strong performance, having established itself in the top five world lagers for the 'off trade' in the UK over the past twelve weeks, the company says.
Consumers can access the 'Conectada' platform by scanning QR codes on every bottle can and multipack of Madrí Excepcional, which will be rolling out from the end of June. The QR codes will also be visible across public events, social media and out-of-home (OOH) advertising over the summer, according to the company.
Revealing little-known brand facts, users will learn about the collaboration between Molson Coors and the La Sagra Brewery near Madrid, and how Madrí Excepcional captures "The Soul of Madrid". Consumers can also access personalised city maps directing them to special events, exclusive music gigs and their nearest Madrí Excepcional stockist.
The campaign is the latest part of the beer brand's five-month-long 'El alma de Madrid' campaign which aims to bring the vibrancy, warmth and progressive spirit of modern Madrid to the UK and follows its return to TV screens in April. It is supported by video-on-demand, experiential, social activations, influencer partnerships, and a brand-new OOH advertisement, including billboards and pop-up displays.
Point-of-sale (POS) materials will also create theatre in-store, including eye-catching aisle fins, shelf frames and free-standing display units to engage shoppers.
Sophie Mitchell, senior brand manager at Madrí Excepcional, said: "This is the next phase of our most interactive campaign yet, giving consumers a deeper understanding of this beer and bringing 'El alma de Madrid' to the streets of the UK."
"Engaging with Madrí Excepcional fans and telling the story of the combination of the best of Britain's brewing heritage and the Soul of Madrid to create a unique modern-style European lager will build on the huge momentum behind the brand and help our customers to drive sales in their stores this summer," she added.
This article was created in collaboration with AIPIA (the Active and Intelligent Packaging Industry Association). For a full update on active and intelligent packaging, come along to the AIPIA World Congress (co-organized by Packaging Europe) in Amsterdam on 14-15 November. The only smart packaging event covering the entire technology spectrum, the World Congress is a meeting place for the global active and intelligent packaging industry where brand owners, innovators, and other stakeholders can network and see and discuss the latest trends and innovations. Register to attend here.