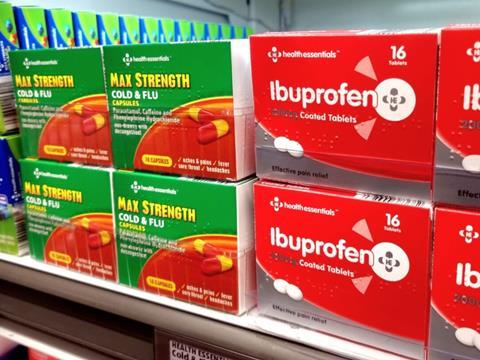 Aldi is trialling a blister pack recycling scheme for its own-label medicines, encouraging consumers to return the plastic and aluminium to be recycled by TerraCycle.
In a reported first for UK supermarkets, shoppers at Aldi are offered the opportunity to return their empty blister packs in an envelope with a Freepost shipping label, which is accessible through the Aldi website. These can be sent via any Royal Mail Post Office or post box; for the purposes of the trial, each customer can send up to two envelopes per month.
TerraCycle is then set to convert the plastic and aluminium foil into recycled raw material for the production of new products, including nuts and bolts, plastic waste bins, and outdoor furniture. This keeps the materials out of general waste streams.
The trial hopes to gauge customer demand for a recycling solution for blister packs and will take place nationwide.
"We are committed to reducing our impact on the environment and continue to look for new ways to promote recycling wherever possible," said Luke Emery, Plastics and Packaging director at Aldi UK. "We hope our customers will get involved in the trial and embrace this new way of recycling their empty blister packets."
Julien Tremblin, general manager at TerraCycle Europe, continued: "The removal of pharmaceutical packaging from landfill and incineration remains a key focus. We are delighted to work with Aldi on this new medicine blister pack recycling scheme, which will enable the creation of a more circular plastic packaging chain."
"Blister packs are a product that cannot currently be recycled at the kerbside and are instead disposed of in general waste, so we fully support this trial," added Adam Herriott, senior specialist at WRAP. "Being able to recycle this type of packaging into raw material, which can then be used for new products, is something we and our UK Plastics Pact members are working hard to achieve on a range of difficult-to-recycle plastics. We look forward to seeing the results of the trial."
In similar news, a Beauty Takeback Scheme has been launched by Marks & Spencer and HANDLE. Consumers can return their hard-to-recycle beauty packaging to M&S stores in an effort to keep the materials in the loop and out of landfill.
According to a consumer research project run by City to Sea and Re by Beauty Kitchen, prefilled returnable packaging would also be a popular packaging system amongst sustainability-minded consumers.
SÜDPACK also developed a new recyclable, mono-polypropylene blister packaging solution for the pharmaceutical, medical goods, and life science industries back in April – a solution hoped to streamline the recyclability of the pack.
If you liked this article, you might also enjoy:
The L'Oréal approach to packaging sustainability
What steps is Apple taking to make its packaging more sustainable?
How did Brazil achieve its 100% aluminium can recycling rate – and can it be replicated in the EU?
Experts have their say on the EU's Packaging and Packaging Waste Directive revisions