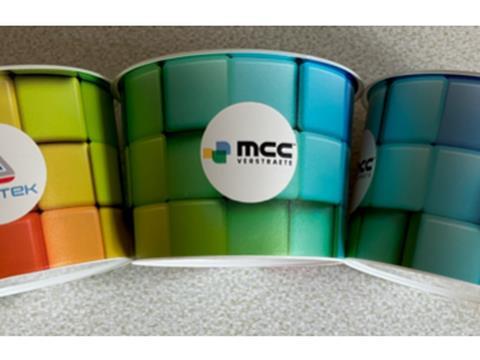 TOMRA and NEXTLOOPP have applied fluorescent markers to MCC Verstraete's In Mold Labels (IML) in an extension of the team's efforts to bring its PolyPPRISM sorting technology to commercial scale and recycle food-grade polypropylene.
TOMRA'S AUTOSORT unit, FLYING BEAM, was integrated with UV illumination for the initial trials. Direct spectrophotometric measurements were then used to analyse the strength of the fluorescence emissions and ensure that there was enough fluorescent signal for the food-grade labelled packs to be sorted.
According to internal tests, the trials resulted in 100% purity and 100% yield. Now NEXTLOOPP is working with MCC Verstraete to showcase its NextCycle IML in-mould labels. Made of polypropylene, the adhesive free, fully printed labels are wrapped around a polypropylene tub, which it reportedly separates from during the grinding and air elutriation process.
As such, printed label flakes are said to separate from the polypropylene, preventing inks and decorations from contaminating the recycled material. Therefore, it is hoped that polypropylene substrates can be fully decorated with IML containers without the threat of contaminating recycling streams with print and label residues.
Future trials plan to apply the technology to other NEXTLOOPP participant-branded products.
Previously, NEXTLOOPP reached the finals and took home the top prize at the Sustainability Awards 2021.
More recently, it partnered with L'Oréal in a bid to create food-grade recycled polypropylene, with Albéa Cosmetics and Fragrance joining the NEXTLOOPP project soon after.
If you liked this article, you might also enjoy:
McDonald's Director of Sustainability in Europe on the company's approach to packaging sustainability
McKinsey on whether or not on-pack sustainability claims affect consumer spending
Perspectives from industry-leading experts on the EU's Packaging and Packaging Waste Directive revisions
A deep dive into the most important packaging sustainability trends and solutions