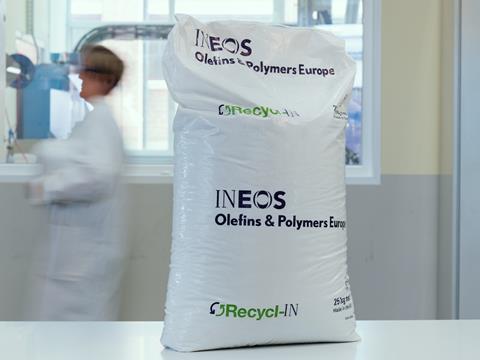 INEOS and Hosokawa Alpine have produced a range of ultra-thin, rigid polyethylene films from resins that contain over 50% recycled plastic. The companies hope that these new solutions can replace multi-material alternatives and increase the recycled content in flexible packaging applications.
As a combination of Hosokawa Alpine's Machine-Direction Orientation (MDO) technology and INEOS' specialism in polymers, the INEOS Recycl-IN range reportedly provides a certified carbon emission reduction of between 25% and 50% in comparison with virgin feedstocks. INEOS claims this to be the first time such a high amount of recycled plastic waste has been applied to this type of packaging.
The films are created by processing Recycli-IN hybrid resins, which compound recycled plastic waste with highly engineered new resins. They are expected to help converters and brand owners increase the recycled content in their products while maintaining packaging quality.
Furthermore, the range apparently ensures that raw materials containing a high percentage of recycled plastic waste are used to produce packaging which, in turn, aims to be recyclable in the future.
Following INEOS' previous investment in a new Hosokawa Alpine MDO film line for the development of single-polymer flexible packaging, the production of Recycl-IN resins using Hosokawa Alpine technology is hoped to enable the use of mechanically recycled polyethylene in advanced technical film applications and the production of challenging film extrusion materials such as MDO polyethylene.
"We share people's concerns about plastic waste, showing we can help produce more recyclable end products using large quantities of recycled materials shows our commitment to creating a more sustainable future," said Rob Ingram, chief executive, INEOS O&P Europe North. "Now that we've proved the concept, we open the door to exploring the application of Recycl-IN and MDO technology to other flexible packaging products where we can make a real difference."
Earlier this year, Parkside unveiled a mono-polymer laminated film to replace aluminium foil and PET packaging structures – claiming that it could be recycled via existing streams.
Huhtamaki has also released a series of new flexible, mono-material packaging solutions, including PE Retort, which apparently contains up to 90% mono-polyethylene.
If you liked this article, you might also enjoy:
McDonald's Director of Sustainability in Europe on the company's approach to packaging sustainability
McKinsey on whether or not on-pack sustainability claims affect consumer spending
Perspectives from industry-leading experts on the EU's Packaging and Packaging Waste Directive revisions
A deep dive into the most important packaging sustainability trends and solutions