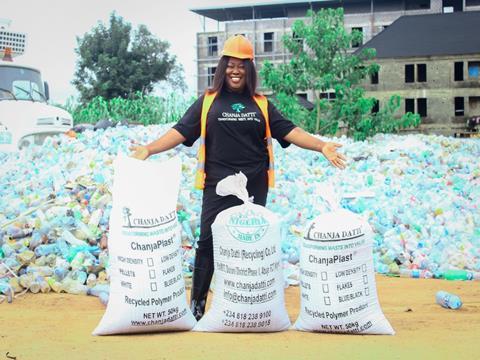 The Chanja Datti project in Nigeria turns recyclable plastic waste into bales.
15 finalists have been named as part of the first Afri-Plastic Challenge strand, Accelerating Growth, which aims to reward innovative downstream solutions for managing plastic waste after it has been used and discarded.
Innovators in the running come from countries including Côte d'Ivoire, DR Congo, Ghana, Kenya, Nigeria, Rwanda, South Africa, and Togo. The innovations include:
TakaTaka Soutions (Kenya) – an end-to-end waste management company that wants to expand the waste sourcing step of the value chain, especially in coastal areas, to boost potential recycling volumes and empower more waste workers
Watamu Marine Association (Kenya) – a project seeking to scale up plastics value chains by improving and validating end-of-life plastics waste disposal, offering buy-back collection centres for plastics, and establishing women's groups offering micro-enterprise opportunities.
CareMe Bioplastics (Rwanda) – uses a web and mobile app to decentralise plastic waste collection and recycling, allowing end-users to sell plastic, with collected plastics processed into indoor and outdoor items like school benches.
Chaint Afrique Academy (Ghana) – creates access to recycled material in coastal and Lake Volta communities in Ghana with the aim to reduce plastic pollution by 30% by 2030.
Green Industry Plast - Togo/GIP-TOGO (Togo) – enables households to earn a living through waste collection, with community agents responsible for the collection of household waste for disposal at facilities where the company can process granules for new applications.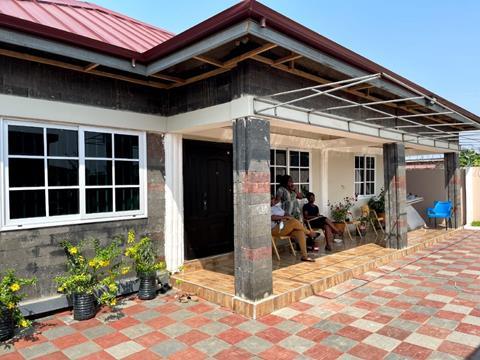 The Nelplast Eco project from Ghana recycles plastic into 'Eco Bricks' for road paving and construction work.
Nelplast Eco Ghana Limited (Ghana) – recycles all types of waste plastic through a polymer-sand composition and extrusion process into 'Eco Bricks' for road paving and construction works, which are reportedly waterproof, heat resistant, durable, reusable, and cheaper.
Chanja Datti Ltd (Nigeria) – aims to turn plastic recyclable waste into currency by converting recyclable waste into bales (with flaking to begin in 2022) that is sold and transported to manufacturers.
eTrash2Cash (eT2C) Company Nigeria (Nigeria) – support local communities in exchanging plastic waste for cash, with waste apparently recycled by the company into reusable raw materials and products.
Greenhill Recycling (Nigeria) – uses technology to support people in marginalised communities to capture value from waste by earning 'Green Points' for deposits of plastic waste, which can be redeemed as cash, health insurance, school fees, utility bills, groceries, and funds for micro-businesses.
Planet 3R (Nigeria) – a social enterprise focused on converting textile and plastic wastes into products according to the 3Rs (Reduce, Reuse, Recycle), while providing employment opportunities for young people and women.
Mega Gas Alternative Energy (Kenya) – converts unsorted waste polythene and plastics into clean cooking gas through a thermal cracking process of distillation and compression that creates no emissions, residue, or pollution to the environment, serving communities living on less than US$1 a day.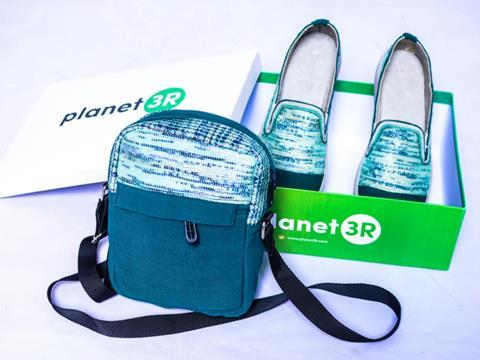 Planet 3R, from Nigeria, converts textile and plastic waste into products, providing employment opportunities for young people and women.
RECYPLAST (Côte d'Ivoire) – offers the PLASTOCK mobile app with plastic waste purchasing points installed at participating homes, which are intended to encourage waste separation and involve the local community in managing plastic waste.
FULL DEVELOPMENT AGENCY/FDA (DR Congo) – a social enterprise that recycles waste plastics into paving tiles used for construction in Bukavu, DR Congo.
RAMTSILO (South Africa) – aims to tackle youth and women unemployment by creating value from plastic waste with plastic bricks that comprise 30% inert plastic, soil, and proprietary additives for fire resistance and durability with the same look and feel as conventional bricks.
Mental and Environmental Development Initiative for Children (MEDIC) (Nigeria) – a buy-back programme that empowers women and young people (over the age of 16) to collect, aggregate, and recycle plastic waste with a focus on the coastal areas of Lagos State.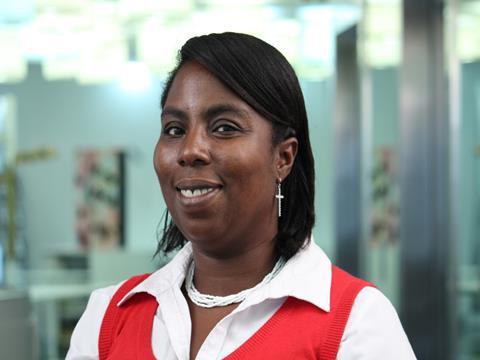 Constance Agyeman, director of international development at Nesta Challenges.
The Afri-Plastics Challenge is awarding approximately £8 million to innovators across three prize strands: Accelerating Growth, with the 15 finalists listed above; Creating Solutions, which rewards upstream solutions geared at reducing the volume of plastic in packaging and other products before it is used; and Promoting Change, which is seeking creative campaigns and projects to promote sustainable consumption around plastic among individuals and communities.
The 15 finalists from the Accelerating Growth category have been selected from 30 semi-finalist teams announced in November 2021. At the time, each team reportedly received grants of £10,000 to grow their ideas and demonstrate their scalability in advance of judging.
The 15 finalists will now receive a further £100,000 each to advance their solutions to plastic waste management. From the 15 finalists, three winners will be announced in March 2023 – first place will be awarded £1 million, second place will be awarded £750,000 and third place will be awarded £500,000.
The Afri-Plastics Challenge is funded by the Government of Canada and delivered by the London-based innovation foundation, Nesta Challenges.
Constance Agyeman, director of international development at Nesta Challenges, comments: "The solutions to Africa's ever-increasing struggle with managing the rising tide of plastic pollution are already out there, but they need the right backing to grow.
"The Afri-Plastics Challenge is supporting the most promising sub-Saharan African innovators to refine and scale local ideas to have impact on the continent."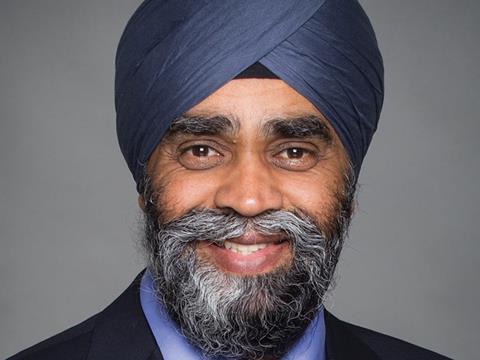 Honourable Harjit Sajjan, minister of international development for the Government of Canada.
Honourable Harjit Sajjan, minister of international development for the Government of Canada, adds: "As custodians of the longest coastline in the world, our responsibility to the health of the oceans does not stop at the edge of Canada's waters.
"The global marine ecosystem is complex and deeply interconnected - plastic pollution in sub-Saharan Africa has global consequences once it enters lakes, rivers and the ocean.
"The 15 inspiring finalists of the Afri-Plastics Challenge: Accelerating Growth strand are leading the way in successfully tackling the enormous quantities of plastic pollution being produced across Africa through ingenious and community-focused projects that have great potential to scale across the continent and beyond."
The Afri-Plastics Challenge has also selected 25 semi-finalists in the second Creating Solutions strand, with projects focusing on plant-based alternatives to plastics for food packaging, construction materials, and sanitary products, among others. The semi-finalists will be given a £25,000 grant and additional support to develop and validate their innovations. From these semi-finalist, 10 finalists will be selected in June 2022, with the winners slated to be announced in January 2023.