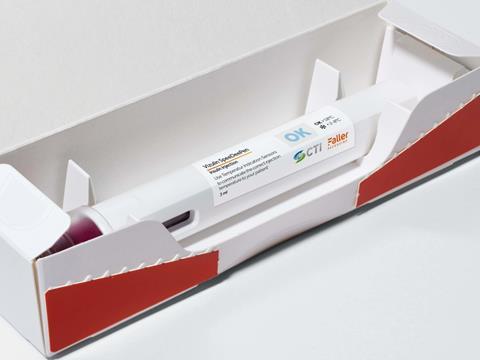 Faller Packaging and Chromatic Technologies Inc. (CTI) have unveiled a new solution for smart labels with printable temperature and light indicators for self-administered medicinal products in a bid to increase their user-friendliness and safety.
The incorrect administration of self-application medicines can result in issues for patients; for example, insulin with an altered viscosity can delay its effectiveness, and it can cause pain if applied at too cold a temperature. As such, the smart labels are designed to change colour and signal to consumers that the medicine is ready to be administered, and can apparently be adapted to meet the requirements of individual pharmacists.
"The customer can easily print the indicator on the label without the need for electronics," explains Sarina Diebold, product marketing manager at Faller Packaging. "Our smart solution replaces expensive technologies that are often bulky and rigid and protrude from the packaging. So, like any other common label, the new label can be further processed downstream and simply applied to the product.
"The product innovation process (PIP) is driven by an agile stage-gate process that's optimally tailored to our requirements. The labels are a good example of how we use a PIP to realise and drive new ideas. Interdisciplinary teams develop and market new products in short iterative cycles, pooling knowledge and expertise across disciplines.
"The innovation process for the new labels began about two years ago. During this period, we focused intensively on the market and the target group and tested the product for relevance and feasibility. Direct interaction with potential pharmaceutical companies at a very early stage also plays an important role. This ensures that the new product is going to be optimal for the users.
"There's a great deal of interest in the labels. We're currently discussing potential usage scenarios with several customers. We'll then develop the individual product together with the customer and our partner CTI. However, it's important to understand exactly what the indicator on this label actually represents. The shape, colour, temperature range, branding, text, and more can be personalised if requested. The sensor is reversible or irreversible depending on the desired usage scenario."
At last year's AIPIA Congress, Cleantech displayed its Digital Temperature Indicator (DTI), an irreversible temperature label with visual and digital indication and integrated with a passive RFID or NFC transponder. This is expected to reduce waste and increase product quality in the pharmaceutical, life science, and food industries.
Identiv and TrueGreen have also developed what claims to be the world's first smart tamper seal using RFID technology with the aim of delivering digital transformation in the cannabis industry alongside the TrueGreen software as a service (SaaS) platform.