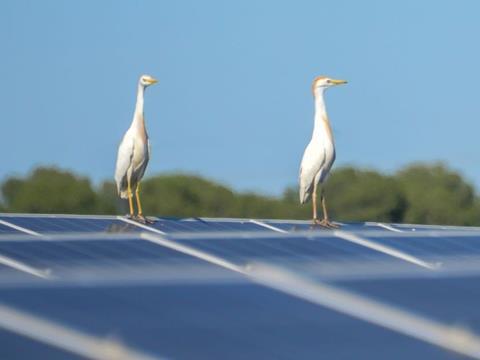 Huhtamaki has a signed two 10-year virtual Power Purchase Agreements (VPPA) with global renewable energy developer BayWa r.e. – reportedly representing the largest solar agreement for the packaging industry in Europe.
According to Huhtamaki, the 200 GWh agreements cover approximately 80% of Huhtamaki's current electricity usage in Europe, where the company has 18 manufacturing sites across 10 countries.
As part of the VPPAs, Bay Wa r.e. will apparently build two new solar installations in Spain to bring additional renewable energy to the European grid. The two new sites will have a combined volume of 200 GWh of renewable electricity per year, which the companies claim will result in savings of over 89,000 tonnes of CO2 annually.
The agreement is part of Huhtamaki's aim to use 100% renewable electricity by 2030.
Charles Héaulmé, president and CEO of Huhtamaki, explains: "We are fully committed to supporting the transition to a zero-carbon economy and have a climate strategy with clear targets and action plans to address all our emissions.
"Renewable electricity plays a major role in delivering on our ambitions and the agreement we have just signed with BayWa r.e. demonstrates that it is possible to achieve significant progress in a short time."
Thomasine Kamerling executive vice president of sustainability and communications at Huhtamaki, adds: "Today, the majority of our Scope 2 emissions are related to purchased electricity and we can address them efficiently by switching to renewable electricity.
"The agreement with BayWa r.e. is our first VPPA, in line with our shift to renewable energy sources globally.
"We expect to embark on other VPPA's shortly, with the next one in the United States. In addition, we are installing solar panels at our sites where feasible and working relentlessly to improve our energy efficiency.
"The progress Huhtamaki is making in switching to 100% renewable electricity plays a significant role also in delivering on our ambition of carbon neutral production by 2030.
"Additional measures are however needed to address our Scope 1 emissions. In addition to improvements in energy efficiency these include switching to alternative fuels and electrification of systems."
Huhtamaki joins other packaging companies in efforts to reduce environmental impacts by accounting for and adapting energy usage. Last year, SIG announced that it would use real-time wind power at its carton production sites in Germany, while Essity is set to launch a pilot project to replace natural gas with green hydrogen in a bid to enable CO2-free tissue production.