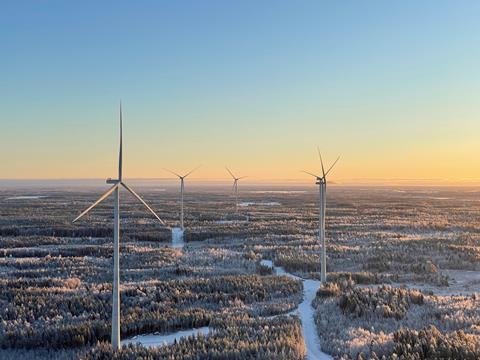 Borealis has entered a nine-year power purchase agreement (PPA) with Alpiq to supply around 90 gigawatt hours of renewable electricity from Renewable Power Capital's Markkikallio wind farm to Borealis' Porvoo production facilities annually.
It is thought that the resultant electricity will reduce Scope 2 emissions by an estimated 45.600 metric tons every year – or a total of 410 metric kilotons across the entire nine-year period powering operations at the Porvoo facilities.
Both Borealis and Alpiq anticipate that the PPA will make progress towards a transition into cleaner energy. In increasing the proportion of renewable power it uses in its Finnish production facilities, the former aspires to power its Polyolefins and Base Chemicals divisions entirely with electricity from renewable sources.
The PPA is also expected to bring the Finnish chemical sector one step closer to carbon neutrality by 2045.
Wolfram Krenn, executive vice president Base Chemicals & Operations at Borealis, says: "With the signing of this agreement, Borealis takes a significant step toward realizing its ambitious Energy & Climate goals, demonstrating its commitment to advancing the energy transition.
"This partnership holds special significance, as it propels Borealis beyond the pivotal threshold of sourcing over 50% of our electricity from renewable sources for our operations in Porvoo. Our dedication to reinventing for more sustainable living begins within our own operations."
"The collaboration with the industry leader to support its sustainability goals is a milestone for us," adds Matti Ahtosalo, head Northwest Europe at Alpiq. "With our Europe-wide origination business, we can utilize our renewable energy portfolio and support industries in their journey to decarbonize their processes.
"Through such agreements, we find long term solutions that on one hand guarantee our client a carbon free electricity supply and on the other hand facilitate the integration of renewable energy sources into the market."
Borealis previously signed a ten-year PPA with Eneco to supply renewable electricity to its Belgian production operations in a step towards 100% renewable electricity for its Polyolefins and Hydrocarbons business by 2030.
Another PPA with VERBUND commenced back in January and seeks to provide 220 gigawatt hours of hydropower for Borealis' operations in Schwechat. This amount of power is apparently comparable to the amount of energy used to power 50,000 Austrian households.
More recently, Progroup announced the expansion of its Sandersdorf-Brehna site with a waste-to-energy plant to supply its paper factory with heat and electricity and save around 80,000 tonnes of CO2 a year.
If you liked this article, you might also enjoy:
The L'Oréal approach to packaging sustainability
What steps is Apple taking to make its packaging more sustainable?
How did Brazil achieve its 100% aluminium can recycling rate – and can it be replicated in the EU?
Experts have their say on the EU's Packaging and Packaging Waste Directive revisions
Also, if you're interested in packaging sustainability, you will want to attend our Sustainable Packaging Summit in Amsterdam on 14-15 November. The Summit brings together leaders and pioneers from across the industry to align strategically, learn, network, and create a critical mass to accelerate change. You can learn more by clicking here, and you can buy a ticket to attend here.