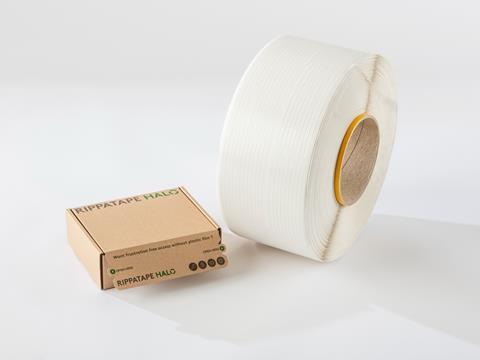 Essentra Tapes, a global tape solutions provider, has launched its paper-based tear tape Rippatape Halo under its ECO range. The solution aims to help brands and converters in e-commerce meet environmental goals whilst providing customers with more circular curbside recyclable packaging options.
The new solution is the first paper tape of its kind in the Essentra Tapes ECO range. Essentra claims it is externally certified as recyclable with paper achieving an A+ level via the Italian National Recyclability Standard: UNI 11743 and MC 501: 2017 criteria.
Rippatape Halo can be used for opening paper, carton or fibreboard and is the result of four years of lab testing. Essentra says the product has the easy opening qualities of its plastic alternative and is based on a single-ply, specialised coated paper with no plastic films or laminates.
Ian Beresford, head of marketing and development at Essentra Tapes, said: "Legislation and consumer passion are driving the industry to seek alternatives to virgin plastics. Rippatape Halo offers a circularly recyclable opening solution for paper and board packs, eliminating the plastic film used in standard tear tapes, and focusing on fibre recovery."
Back in May, Essentra Packaging announced a collaboration with Advanced Material Development to develop smart packaging for the pharmaceutical sector. H.B Fuller introduced its fibre-based tear tape in June, and Tesa launched its new recycled PET packaging tape in August.