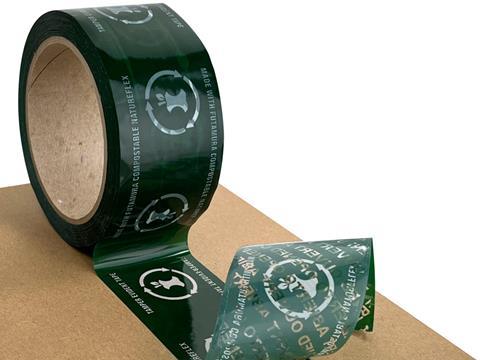 Cellulose films manufacturer Futamura and tamper-evident solutions company Tamperguard have collaborated to create a tamper-evident tape utilising Futamura's NatureFlex™ film, which is reportedly renewable and compostable.
Apparently, if an attempt is made to remove the tape, it will leave a non-stick 'void' message on the surface, indicating interference. The tape's adhesive remains on the surface, preventing re-sealing and safeguarding the contents.
Futamura says its NatureFlex films are sourced from renewable wood pulp from PEFC-certified plantations and meet global standards for industrial composting, including BS EN 13432 and ASTM D6400. The company also states the films are certified by TÜV Austria for backyard composting, and the antistatic properties can be useful for thin films in tape applications for automatic case sealer machines.
The new tamper-evident tapes provide solutions for various markets including retailers, e-commerce companies, and industries such as food, pharma and cannabis throughout North America.
Back in 2022 Essentra Tapes launched its paper-based tear tape and in April this year tesa announced its recyclable tear tape consisting of a paper-based backing, natural rubber adhesive, and bio-based resin.
If you liked this article, you might also enjoy:
McDonald's Director of Sustainability in Europe on the company's approach to packaging sustainability
McKinsey on whether or not on-pack sustainability claims affect consumer spending
Perspectives from industry-leading experts on the EU's Packaging and Packaging Waste Directive revisions
A deep dive into the most important packaging sustainability trends and solutions